Ever wondered how many clicks a Rank 1 organic result on Google would fetch in a world with no paid ads? What if I tell you that there is a way to find out?
Yes, there is a Paid + Organic Report available for Search marketers now. Before we learn the step-by-step process of activating that report, let's see how we arrived at this stage where there is minimum  differentiation between paid ads and organic search results on Google SERPs.
Let's go back for a minute in SEO time.
Google SERP: How the SERPs Have Evolved Over Time
Since the colonization of Paid Ads over Google SERPs began, it has been an issue of concern for SEOs. All the hard work is traded off for a few CPCs.
Rank 1 hasn't been Rank 1 for a long time – that space has been occupied by
Featured Snippets
Knowledge Panels
Paid Ads
Here's a look at SERPs without Ads. Yes, there used to be a time like that, a long time ago. An effective focus on organic optimization back then would fetch you a top rank and consequently a good amount of organic traffic.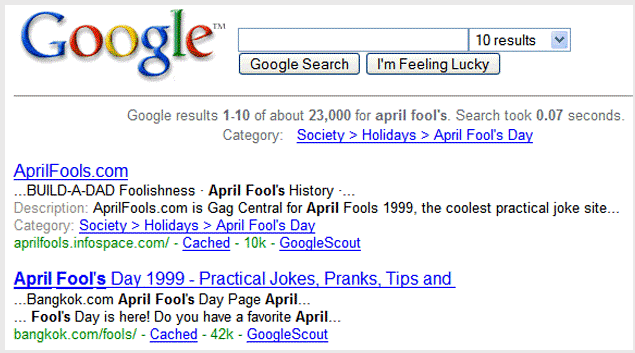 Today however, there is less real estate out there for you to grab on the Google SERPs. In today's SERPs – well, I'll let a meme explain that to you ?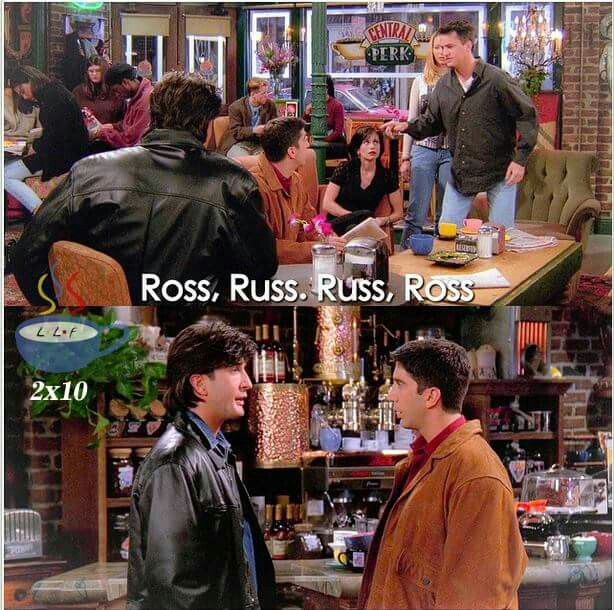 For those who are Friends' uninitiated, this meme highlights how insignificant the differentiation between paid ads and organic results are now.
In the past, there was a clear distinction and noticeable differences between paid ads and organic results. Here's a little refresher for those of you who haven't seen these in action: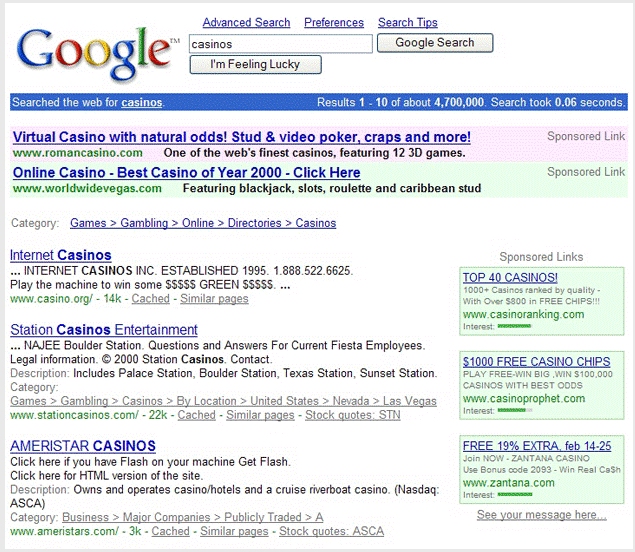 See this layout from 2001? The ads had a shaded background and one could differentiate between organic results and paid ads.
Around 2014, the SERPS underwent a big change. The background got replaced by an orange highlight announcing the result was a  paid ad to every searcher.
The image below shows "Ad" in orange font highlighted in front of a paid result.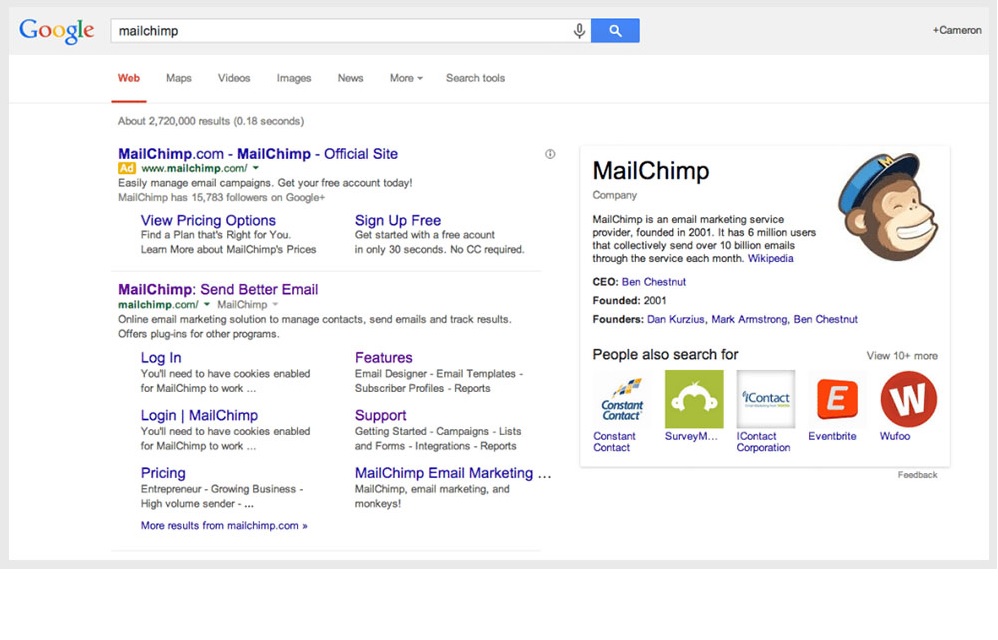 In 2017 Google decided that paid ads should not be given special marked features in the SERPs. Many digital marketers complain that this was Google's ploy to gain more traction for their Paid campaigns. Users could no longer easily differentiate organic and paid results.
This is how the SERP layout appears today  Paid and organic result URLs appear in green font with 'Ad' mentioned in green font before a paid ad URL.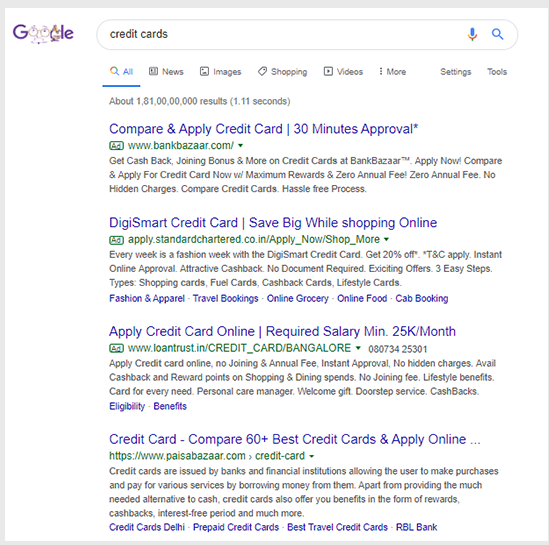 There have been several attempts by Google subsequently to keep modifying SERP layouts. This has been detrimental for both user experience as well for direct SEO ROI.
Users who click on paid Ads end up on landing pages which may not fulfill their search intent completely.
SEOs on the other hand, end up fighting for real estate on the SERPS, despite their best efforts at content optimization based on various search algorithms in play.
Decline in Organic Traffic for Rank 1
If you look at the organic channel numbers, organic traffic generated over the years from a Rank 1 result has dwindled. With all things constant, traffic generated from the No. 1 position on the SERPs has been on the decline. Whilst the increase in search demand for certain keywords has compensated for the traffic over time, search professionals still wonder, where did that traffic go?
Hint: Google Ads
The question that a lot of SEOs ask is, does the increased presence of Google ads impact organic traffic?
They do.
Let's look at an example. See how Samsung may be stealing traffic away from Apple on a branded query: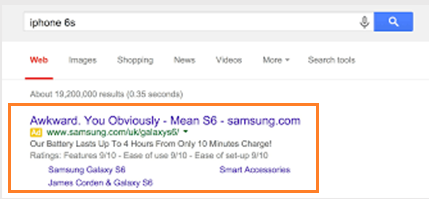 It has therefore now become critical for brands to bid for their branded keywords as well to 'protect their brand' on SERP – to ensure they don't  lose traffic to their competitors, which would have been considered an unnecessary use of marketing dollars even a few years ago.
Understanding your Organic Vs. Paid Performance on Search
Let's circle back, to the question I started this post with. Can search professionals check the impact of Paid Ads over their organic search results?
Yes, there is a way to get this data. And this isn't any new development, this has been part of Google Ads (erstwhile, Google AdWords) since 2013.
And it is called, quite simply, Paid + Organic Report. That's Google for you – keeping things simple ?
How to access to the Google Paid & Organic Report
Here is a step-by-step guide to activating and accessing your Paid+ organic report.
Step 1: Go to your Google Ads account and click 'Linked Accounts'

Step 2: Choose 'Google Search Console' from the list: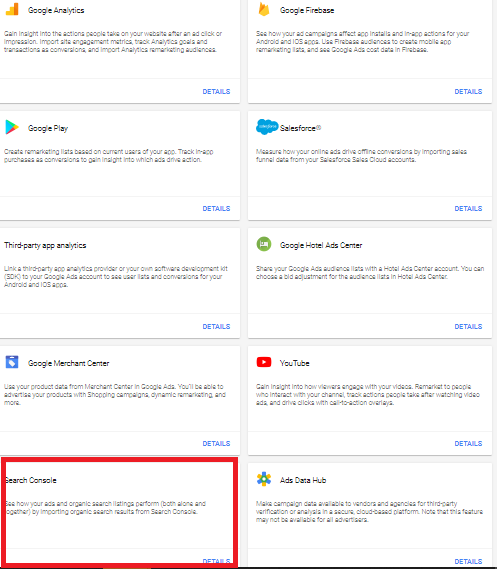 Step 3: On trying to link it to console, a pop-up appears where you'll need to add the site URL.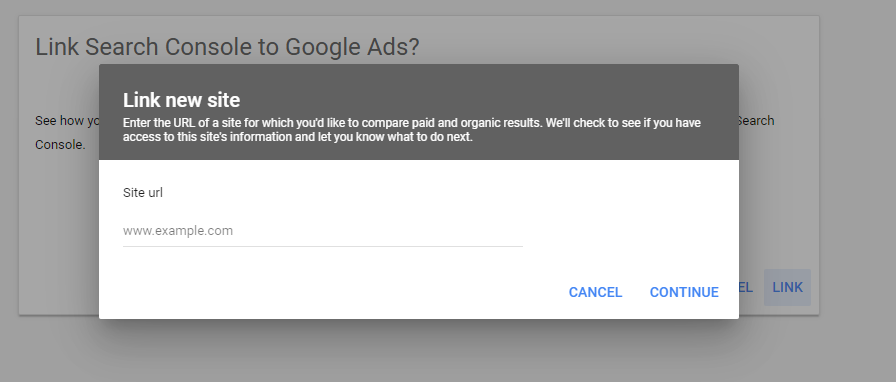 Step 4: Click on 'Link' to confirm & Enter the URL of the domain you want to link. Do note that you'll have to repeat the process twice to link the www as well as a non-www version of the site. No need to add https/http before the URL.

Step 5: Once linked and verified, you'll start seeing this report in a few days.
Here's what you'll need to connect your Google Ads and Search Console
A Search Console account
Administrator access to the Google Ads account, which is linked to the search console account.
If it isn't linked, you'll need to link it by making sure that you add two versions: one version with "www." and another version without www.
You don't need to specify HTTP or HTTPS.
Once done, look closely at the Paid CTRs and then look at the Organic CTRs.
What does this Paid & Organic data tell you?
For the website we reviewed, here's what the Paid & Organic data of over a month looks like:

This is monthly data,  for those keywords that were displayed in both Paid and Organic results on Google SERPs.
How Can Enterprises Make Use of  the Google Organic + Paid Report
Holistic view of entire search opportunity:
With clarity on both paid and organic performance via this report, enterprises can also get a bird's eye view of their combined value of Impressions on SERPs. This holistic approach to enterprise Search can drive efficiencies and boost performance.
Avoid Cannibalization:
Avoid wastage of your Paid budget by figuring out a balance between Paid & Organic. Allocate your paid budget in sync based on how your Organic Keywords perform.
Single-use Keyword Research:
Strategize your keyword research and strategy in synergy with both channels
Benchmarking CTR:
Understand the CTR Potential for each of your keyword themes  and set data-driven goals
Understand fluctuations in CTR:
Draw better insights from the fluctuations in your CTR growth, while keeping other parameters constant.
 The Final Word
The 'Paid + Organic Report' can also be used to plan your Paid Strategy. Going by the battle for SERP real estate, it is imperative to have your business goals aligned. Paid and Organic teams and goals cannot work in silos, they need to align on targeting strategy, to get the most out of the available search volume of keywords and budget utilization.
Link your Google Ads and Webmaster accounts and look at the Paid + Organic report. What are the numbers telling you? Reach us today to start a conversation about boosting your Search performance holistically, across all search channels.