For Google parent company Alphabet Inc., Q2 2020 marked the first-ever revenue decline since going public. Revenues dipped (by 2% Y-O-Y), but still exceeded street expectations. As the COVID-19 crisis continues to pummel the advertising sector, Google has felt the impact even as the bulk of advertising spend across industries have been directed to digital, at the expense of broadcast and print media.
KEY TAKEAWAYS:
Alphabet announced its Q2 2020 results by the end of July 2020, reporting $38.3 billion in revenues in the quarter, down 2% Y-O-Y. For comparison, Alphabet had reported $41.16 billion in revenues in Q1 2020.
Here are the key takeaways for performance marketers:
As user trends show a clear shift to 'online', advertisers are slowly coming back but there is a clear 'flight-to-safety' behavior being observed.
There is an opportunity for performance marketers to be opportunistic and spend on areas that others have shied away from. Clearly the pandemic has affected a few sectors, who need to be careful based on their business drivers.
For e-commerce advertisers, it is a perfect time to invest in digital advertising; however, it is important to be aware of the competition in the 'rising retail' category.
YouTube performance continues to be valued, while YouTube brand advertising has taken a hit this quarter. Google Cloud (including GCP and G Suite) continues to drive revenues with a 43% Y-O-Y growth.
With products, Google's focus has been on investing in and improving upon products that have a direct impact on the end-users in the current social and economic scenario. From an advertising perspective, the focus has been on Shopping this quarter.
KEY TRENDS FROM Q2 2020: WHAT MARKETERS NEED TO KNOW
At $29.9 billion, a little over 78% of Alphabet's total quarterly revenues came from Google advertising, once again underscoring the company's dependence on ad revenues, even in the current struggling global economic environment.
Google advertising made up 78% of Alphabet's total revenues for Q2 2020.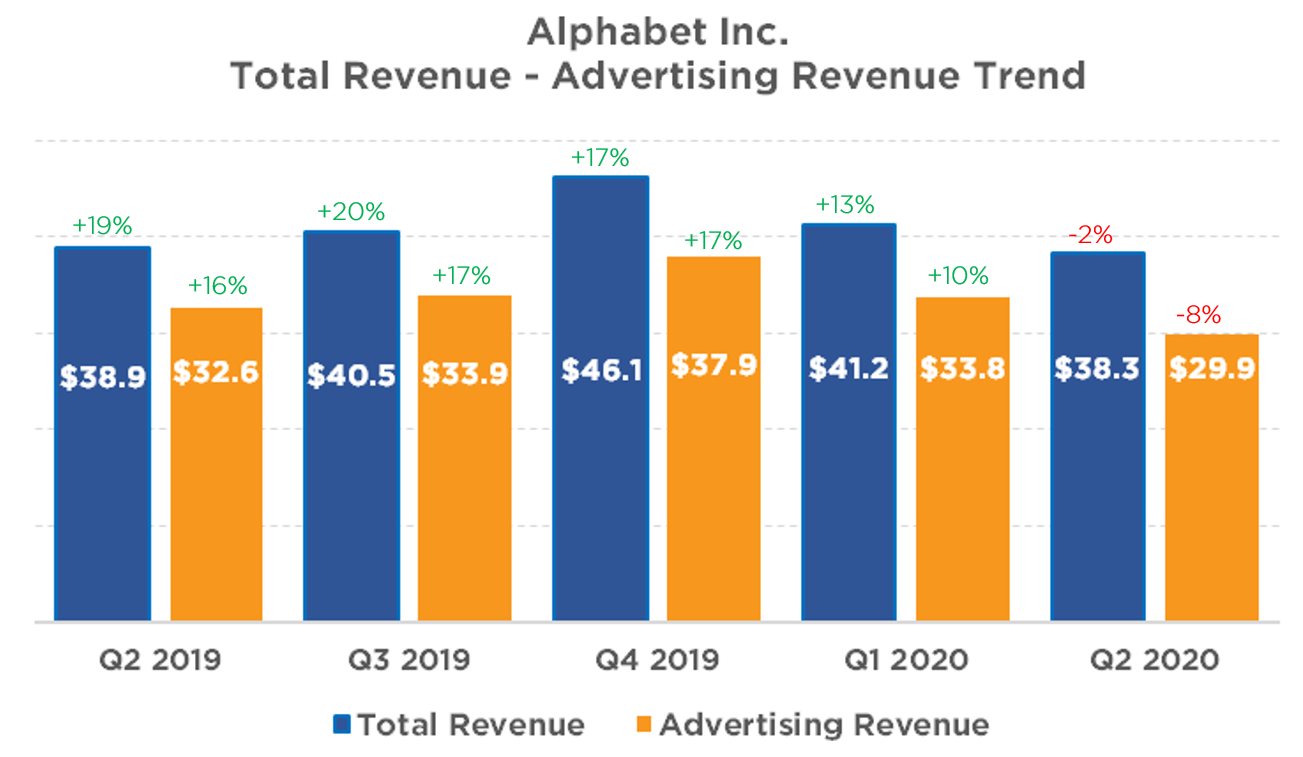 "We're working to help people, businesses and communities in these uncertain times.
As people increasingly turn to online services, our platforms — from Cloud to Google Play
to YouTube — are helping our partners provide important services and support their businesses.
                                                                                                          – Sundar Pichai (CEO, Alphabet & Google)
Even as Google's core search and ad revenues saw a Y-O-Y decline of 8%, sales from Google Cloud and YouTube saw commendable growth. The growth in revenues from Cloud and YouTube can be looked upon as a clear indicator of growing versatility in the company's overall product line.
YouTube ad revenues grew 6%, to $3.8 billion from $3.6 billion a year ago, while Google Cloud sales was one of the brightest spots for Google, seeing a 43% YOY boost.
Here are the key performance marketing trends we see emerging:
1. USER TRENDS
Google's CEO Sundar Pichai pointed out that "the shift to online has been profound, with people engaging a lot, doing newer things than they did before."
Google saw early signs of stabilization as users returned to commercial activity online. This was true across most of advertising verticals and geographies; however, Google continues to remind performance marketers that the economic climate remains fragile.
The key areas of users' interest in Search have been Healthcare, Shopping, Education, and local information for the SMBs.
In Q2 2020, Google also announced the 'Google for India Digitization Fund', making a major investment (of $10 billion over the next 5-7 years) to accelerate and participate in India's emerging digital economy, enabling information in local languages, and applying technology & AI to sectors like health, education, and agriculture.
POTENTIAL IMPACT:
As we had pointed out in our Q1 Google Earnings analysis report, search marketers should be aware of and adapt to new user behaviors and needs and the opportunities that emerge based on understanding the newer search terms.
There is a strong opportunity for performance marketers to understand different user journeys and the depth for each based on experience and potential long-term implications.
2. EMERGING PRODUCT FEATURES & SERVICES
Google spoke at length about the various products and services specifically geared towards the shopping business and with an eye towards the coming Q4 2020 holiday season. This started with the Google Shopping search results being opened up to unpaid, organic listings last quarter and continues with new product features introduced this quarter.
Read more in our blog post on Google's Organic Shopping Update here.
Google has Integrated with third-party providers (PayPal & Shopify), making it easier for the sellers to choose their payment options.
As more and more businesses are shifting to online to offset physical store closures, new visual features for retailers like Smart Shopping Campaigns, high-quality images, and YouTube videos are offering more ways for advertisers to reach online shoppers.
Smaller and local advertisers are using Smart campaigns to reach new online audiences and using Promoted Pins on Google Maps to let customers know that their businesses are open.
Google has created a new feature called the 'Rising Retail Categories' tool, which exposes fast-growing product searches and helps businesses understand what people are searching for during the pandemic.
POTENTIAL IMPACT:
Google sees value in continuously investing in understanding what its users are searching for and engaging with online and turning over this value to the merchants – thus improving the shopping experience for both search users and the merchants. This is an area where Google will continue to focus on.
3. CORE SEARCH
With the COVID-19 pandemic slowing down economic growth, advertisers continued to pull back spending during the quarter. Google had ended March at a mid-teens percentage decline in Y-O-Y growth, as reported in our last quarterly report. In Q2 2020, Google saw a gradual return in user search activity to more commercial topics, which is heartening.
The decline in Search revenues has put significant pressure on Google's profitability, which was further impacted by its ongoing investments for long-term growth.
The increase in user activity has led to an increase in spending by advertisers, which resulted in a gradual improvement in Y-O-Y revenue trends in the second quarter leading to a flat quarter from a revenue growth perspective.
Ruth Porat (CFO, Alphabet & Google) cautioned that it is hard to gauge whether those trends will continue given the "obvious uncertainty of the global macro environment."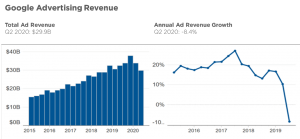 POTENTIAL IMPACT:
For verticals that have been doing well, the move to online is an important opportunity for the performance teams to cash in. As Google states, the query trend driven by macro-economic trends is what performance marketers should be watching out for.
For an in-depth analysis of COVID-19's impact on Banking and Financial Services in the US, click here.
4. YOUTUBE
YouTube has proved to be a powerful information dissemination engine in response to COVID-19 queries in over 90 countries. Timely, user need-focused features/services like Camp YouTube (a virtual summer camp for kids) and YouTube Premium Music have led to strong subscription growth and the platform has garnered strong engagement and watch-time over the quarter.
YouTube advertising revenues in Q2 2020 were $3.8 billion, up 6% Y-O-Y. However, similar to Q1 2020, monetization was driven primarily through direct response but offset by a continued decline in brand advertising, which then moderated in June/July timeframe, which is encouraging for performance marketers.
YouTube TV and Subs is seen as an opportunity to get more scale, with new channels being added to the emerging product. This product competes directly with the TV in the US advertising market, which is a new area for Google. Google has been growing revenues not only from cord-cutters but also from the music industry, which has been strong in the past year.
POTENTIAL IMPACT:
YouTube continues to be a strong player for performance marketers. YouTube direct response continues its strong growth and with a focus on performance, this is an area of opportunity, like we mentioned in our last
report.
Also, YouTube TV is a promising opportunity that can link the performance strength of YouTube with the scale of television and is an area that marketers must watch closely.
THE FINAL WORD
The Q2 2020 earnings call drew attention to Google's four key areas of focus for 2020:
Creating the most helpful products for everyone
Providing the most trusted experiences for users
Executing at scale, and
Creating sustainable value.
As Google, and performance marketing teams the world over, are navigating economic slowdowns and uncertain times, Google has reiterated its commitment to continuing on the path to investing in and growing new businesses, and taking all necessary steps to build long-term value with these opportunities.
Alphabet has expressed confidence in their business while acknowledging that it is "premature to gauge the durability of recent trends" due to the global macro environment, given the strong correlation between macro-economic performance and ad spends.
Monetization metrics for Google are clearly being skipped in the earnings report over the last three quarters. Given the move towards Automation and Declining CPCs that we have been seeing, our team is working on a deep-dive analysis to understand these metrics better.
We would continue to observe the space closely and bring you the latest performance marketing trends as we navigate these uncertain times.
Have questions? Reach out to our Digital Solutions team today to start a conversation!