Good news for Retailers – It is now free to sell on Google!
Google made news waves in late April with its decision to open up its Shopping search results to unpaid, organic listings. The company announced on 21st April 2020, that the Google Shopping tab results "will now consist primarily of free product listings, helping merchants better connect with consumers, regardless of whether they advertise on Google.".
The move comes amid the coronavirus crisis in which many brick and mortar retailers who have had to close their doors are shifting focus online to drive sales. Merchants would be able to sell products at no charge, unlike before where only shopping ads were being listed here and Google was charging on pay-per-click.
"In light of these challenges, we're advancing our plans to make it free for merchants to sell on Google," announced Bill Ready, President, Commerce at Google. "With hundreds of millions of shopping searches on Google each day, we know that many retailers have the items people need in stock and ready to ship but are less discoverable online."
The approach is now live in the US and is expected to expand globally before the end of the year. For retailers, this is great news indeed – in the current challenging times, this means that they do not have to advertise to feature in Google Shopping results.
Many industry experts see this as a move from Google to compete with Amazon & eBay. As more shoppers head for digital marketplaces and online shopping during the corona pandemic, this sets the stage for Google to magnify its scope and expand the reach of its own marketplace.
What does this update mean for retailers & shoppers?
This change means Retailers now have an opportunity for free exposure to millions of people who come to Google every day for their shopping needs.
Retailers can rejoice the fact that this update would lead to more eyeballs to their products. With only paid listings earlier, not all products were being promoted, mostly lower-priced products or ones with low margin were being left out as marketing teams were not able to justify the ROI given the advertising costs and competitiveness on Google shopping.
This move would open up a whole lot of opportunities for brands to bring in their entire product portfolio in front of consumers without worrying about the cost. This would be a blessing for SMBs who are finding it difficult to continue advertising with the current situation can list their products and continue driving sales.
For shoppers, this means more products from more stores are now discoverable through the Google Shopping tab. They would be able to discover more merchants in their vicinity as earlier most of these merchants found it expensive to list their products with paid ads given the tough competition from big brands.
Based on the study from eMarketer, 49% of users start their digitally shopping journey through Amazon. It would be interesting to see how these numbers change with this update from Google and the major shift of offline shoppers to online with the current COVID-19 crisis.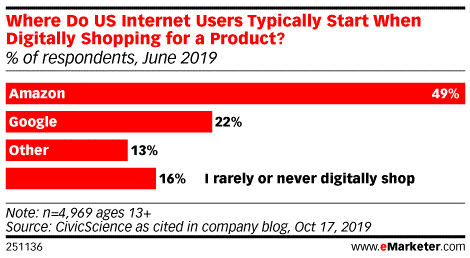 How should Retail marketers and agencies react?
For advertisers or agencies, this means that paid campaigns can now be augmented with free listings. This will call for a holistic approach and marketers now need to look at ROI holistically.
With organic product listings showing under regular shopping ads, we expect user click behavior to change with click volume splitting between paid and organic results. For marketing teams who have been running shopping ads, it would not be surprising if you are seeing a drop in Clicks & CTR with this update.
Budgeting & bidding decisions will change significantly in the future and a lot of focus for brands would shift to make their product feeds SEO friendly.
With the dominance of shopping ads and paid search ads, there is a very limited real estate and brands find it difficult to improve organic ranking in search results, however, with this new addition in Shopping section, there will be new opportunities for such brands. Nothing better than driving online sales organically without paying for ads.
How do you enroll to get listed and featured in the organic listings?
For existing Google Merchant Center and Shopping Ads users, it is easier to enroll in the program and reap the benefits.
Visit the Merchant Center and make sure you have opted in.
Click on the left panel options.
Select "Growth" and then "Manage programs" in the left navigation menu.
Select the "surfaces across Google" program card.
That's it. You should be ready to go!
For new users of Merchant Center who are interested in joining this program, it's open and does not require Google Ads.
You can opt into surfaces across Google during the Merchant Center sign up process and start creating your product feed. Google will streamline the onboarding process for new Merchant Center users over the next few months. Google is working closely with many existing shopping platform partners, including Shopify, WooCommerce, and BigCommerce. Furthermore, Google is also launching a new partnership with PayPal to let merchants link their accounts, in order to speed up onboarding and improve search quality.