Google results for Q1 2020 are a "tale of two quarters", as described by Sundar Pichai (CEO, Google). Alphabet, Inc. saw strong results for January and February, followed by an abrupt decline in March in their advertising revenues driven by COVID-19. The impact was not as severe as the street had expected which is positive news coming from the industry bellwether.
KEY TAKEAWAYS:
Continuing the trends we saw in Q3 2019, Google's total advertising revenues saw an uptick and hit $37.93 billion in Q4, compared to $33.91 billion in Q3 2019 and $32.63 billion in Q4 of last year.
Here are the key takeaways for performance marketers:
Overall, the advertising business took a hit, driven by the slowdown in ad spend by advertisers and highly correlated to country/sector lockdowns due to COVID-19.
Considerable shifts in user behaviors towards non-commercial queries in Search and higher engagement in YouTube and Apps are harbingers of a digital-first medium.
Post COVID-19 implications for Google will be driven by macro-economic recovery, however, Q2 is expected to be bleak.

Organic Shopping is an opportunistic launch from Google as e-commerce takes center stage and is a good platform for advertisers to leverage the organic shopping format.
YouTube continues to grow in viewership, however, brand advertising has slowed while performance still shows strong results.
KEY TRENDS FROM Q1 2020: WHAT MARKETERS NEED TO KNOW
Alphabet announced its Q1 2020 results in late April 2020, bringing in a 13% Y-O-Y growth at $41.2 billion in revenues. The quarter, however, also marks a slower growth rate compared to last quarter which recorded a 17% Y-O-Y growth.
At $33.8 billion, Google advertising made up 82% of Alphabet's total revenues for the quarter.
Alphabet, Inc. saw strong results in January and February for the Search, Network and YouTube businesses, followed by an abrupt decline in March in their advertising revenues driven by the COVID-19 crisis.
YouTube advertising revenues were $4.04 billion, up 33% Y-O-Y. Significant YouTube revenue growth persisted until late in the first quarter, with different performance trajectories for the brand and direct response components.
Macroeconomic performance is expected to be still slow in Q2, and given its high correlation with the advertising spend, Google ad revenue will be challenged in Q2 as well.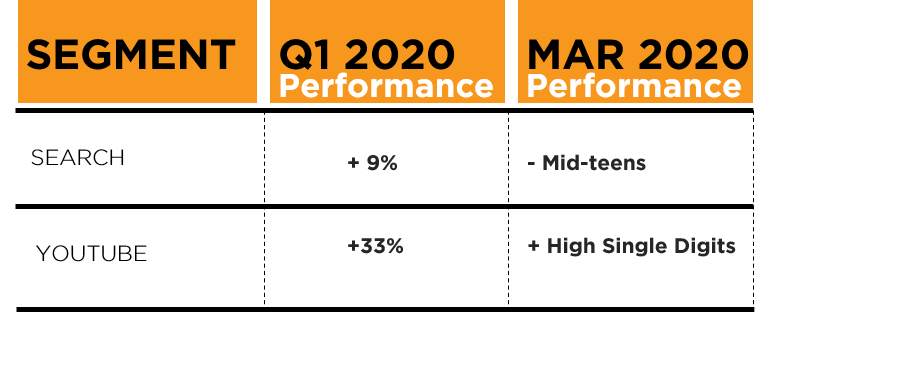 Sundar Pichai refers to two key aspects of Google's business that gives the company confidence about the future.
"First, as we saw after 2008, one of the strongest features of Search Ads is they are cost-effective and can be adjusted quickly, so it's comparatively easy to turn them off and then back on.  
Second, our business is more diversified than it was in 2008, and we are excited about the momentum in areas like YouTube, Cloud, Google Play, and our computing efforts."
                                                                                                          – Sundar Pichai (CEO, Alphabet & Google)
Google is confident that its diversified businesses will help them through this current situation. The diversification of Google stems from their sizable Cloud business, helping clients across different sectors (education, government, retail, telecom, banking) etc.
Here are the key performance marketing trends we see emerging:
1. ADVERTISING & SEARCH PERFORMANCE
Google advertising business kicked off 2020 well and had a good, strong first two months of the quarter. However, in March, driven by the evolving COVID-19 crisis, most businesses slowed their ad spend, resulting in a slowdown of Google revenues.
The slowdown in spend is directly correlated to the locations and sectors heavily impacted by the COVID-19 crisis and the related shutdown orders.
While the revenues have slowed, Google is bullish about its ad business
given the efficiency of its platform.
POTENTIAL IMPACT:
At iQuanti, we have observed similar trends in query shifts for some of the segments that we have analyzed. Performance marketers are finding pockets of opportunity for getting cheaper traffic, as more and more users are moving digital.
2. SHIFT IN USER BEHAVIORS
From a user perspective, Google mentions that they have seen query traffic move to "non-commercial queries" (information, learning, education, entertainment). According to Google, the Coronavirus-related search activity, at its peak, was four times greater than during the peak of the Super Bowl. Although users' search activity increased, their interests shifted
to less commercial topics.
Considerable shifts were observed in user consumption on Apps (+30% from February 2020 to March 2020) and a hefty uptick in YouTube views.
POTENTIAL IMPACT:
Two key themes emerge for performance marketers to be aware of and adapt to here:
Newer search terms provide an opportunity to understand what users are interested in and develop more mid-funnel content.
Look beyond search onto other channels, even beyond Google.
3. POST COVID-19 IMPLICATIONS
As expected, the recovery of Google ad spend will depend on a return to economic activity. But, based on our learnings from 2008, we expect the return to ad spend to be driven in Search as it can be adjusted quickly. Marketers see it as highly cost-effective and ROI-based.
There is an acknowledgment of a deeper shift to digital, across all marketing. Advertisers who have been hesitant to shift budgets to digital are introspecting the efficacy of its marketing mix and trying to improve on it.
POTENTIAL IMPACT:
In our discussions with marketers across industries, we have seen a steady move towards 'digital-first marketing'. However, the roadmap and spend shifts will be driven by macro-economic changes and business realities. Marketers should look at their spend-mix and introspect the real value of all the channels.
For an in-depth analysis of COVID-19's impact on Banking and Financial Services in the US, click here.
4. ORGANIC SHOPPING
Google rolled out its Shopping product for organic search for free. This is a smart, quick reaction from Google as users in various stages of lockdown are turning to e-commerce and are moving towards shopping-first platforms like Amazon.
Google Shopping will help counter some of the shifts of e-commerce users and provide advertisers a new format in Google. According to Google, the new feature has been widely rolled out in the US in April and will be soon rolled out globally and is seeing very positive responses.
POTENTIAL IMPACT:
Similar to organic search, Google Shopping will now provide a more integrated shopping experience and use similar signals as organic search. This means more products from more stores are now discoverable through the Google Shopping tab. E-commerce advertisers need to ensure that their merchant center feeds are optimized to leverage this new format.
Read more in our blog post on Google's latest Organic Shopping Update here.
5. YOUTUBE CONTINUES TO GROW
Google has seen continued growth with YouTube. Sundar commented that "people are turning to YouTube. Our watch time has increased across the board. People are also looking for authoritative news content. Viewership on YouTube has increased significantly compared to last year, too."
While brand advertising grew in the first two months of the quarter, it began to slow down mid-March. On the other hand, YouTube direct response continued to grow throughout the entire quarter. This is in-line with our discussion with our clients as well, as we are seeing a flight towards performance.
A quick note here: YouTube for performance works for CPA driven advertisers through a few approaches:
Custom intent audiences
Clickable 'call-to-action' button
Location extension and
Shoppable videos.
POTENTIAL IMPACT:
YouTube Performance, as we discussed in the previous few earnings commentaries, has been a hidden opportunity for performance marketers looking for efficiency ROI on ad spend.
THE FINAL WORD
The Q1 2020 earnings call made it very clear that the company's focus is currently on helping its users during the COVID-19 crisis. As Sundar stated, "people are relying on Google's services more than ever" and Google is marshaling resources and product development to meet these needs, focusing more on long-term opportunities.
In-line with the focus on COVID-19, the earnings call and commentary did not provide insights into user experience, new product launches and GCP related to performance marketing.
We will observe the space closely and bring you the latest performance marketing trends as we navigate these uncertain times.
Have questions? Reach out to our Digital Solutions team today to start a conversation!