The Client
One of the best-known car rental brands in the world, with offices across the globe
The Challenge
In March 2022, Google announced that it was sunsetting Universal Analytics (UA) by July 1, 2023, and replacing it with Google Analytics 4 (GA4), the next generation of Google Analytics. GA4 is designed to help marketers prepare for privacy- and customer-centric measurement. It builds on Google's App + Web property and allows brands to see unified user data across their websites and apps.
For our client, this meant that it had to migrate 13 web properties and 2 mobile properties to GA4 in a span of 5 months. To make sure that the complex migration was done seamlessly and on time, the client decided to reach out for professional help.
The Solution
The car rental company brought iQuanti on board to implement the migration. They had worked with iQuanti on tagging and analytics reporting work previously and were happy with what we delivered.
At iQuanti we combined our deep analytics expertise with Agile project management to chart out a plan that would complete the migration before the deadline – and with data intact and improved.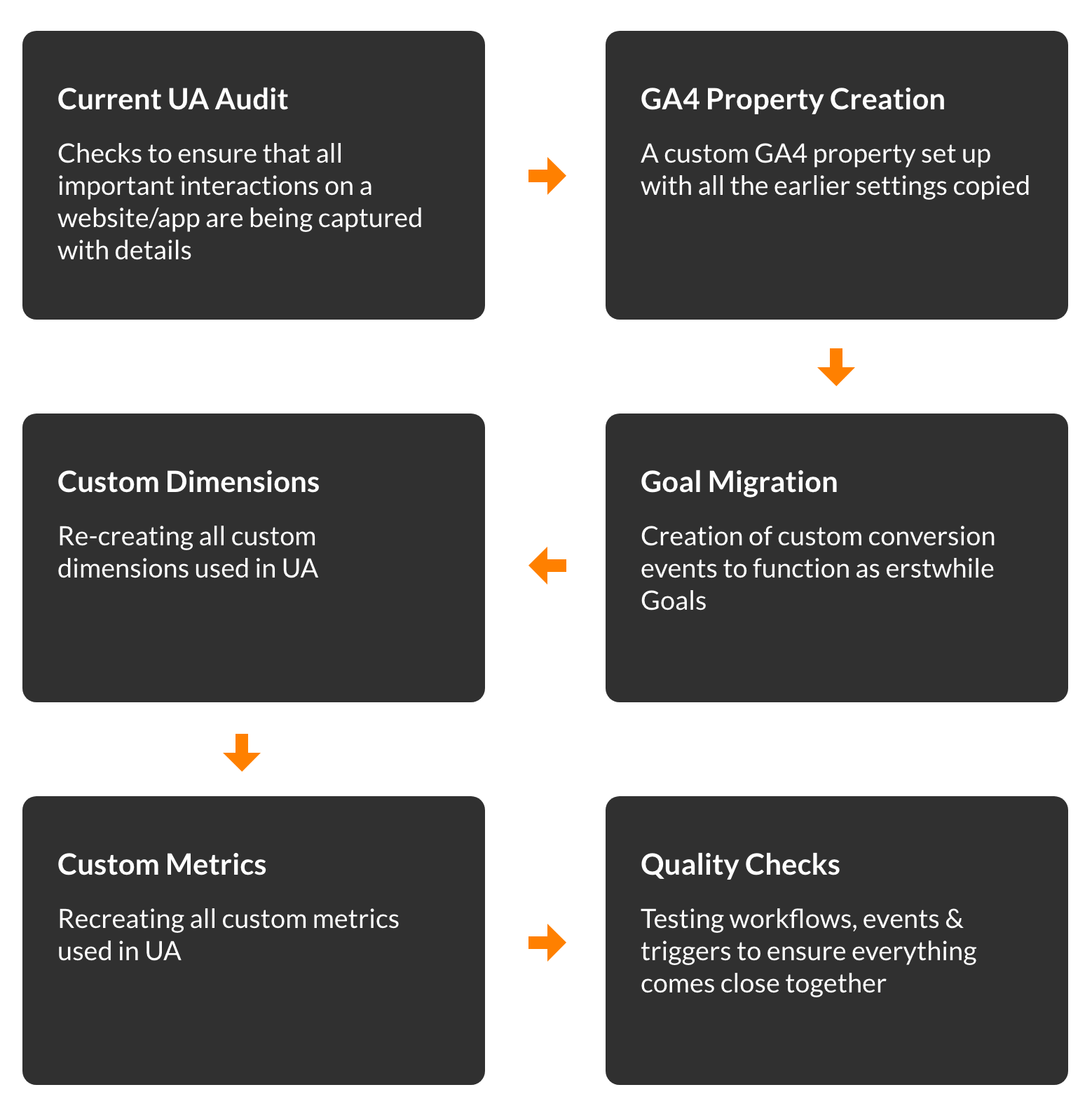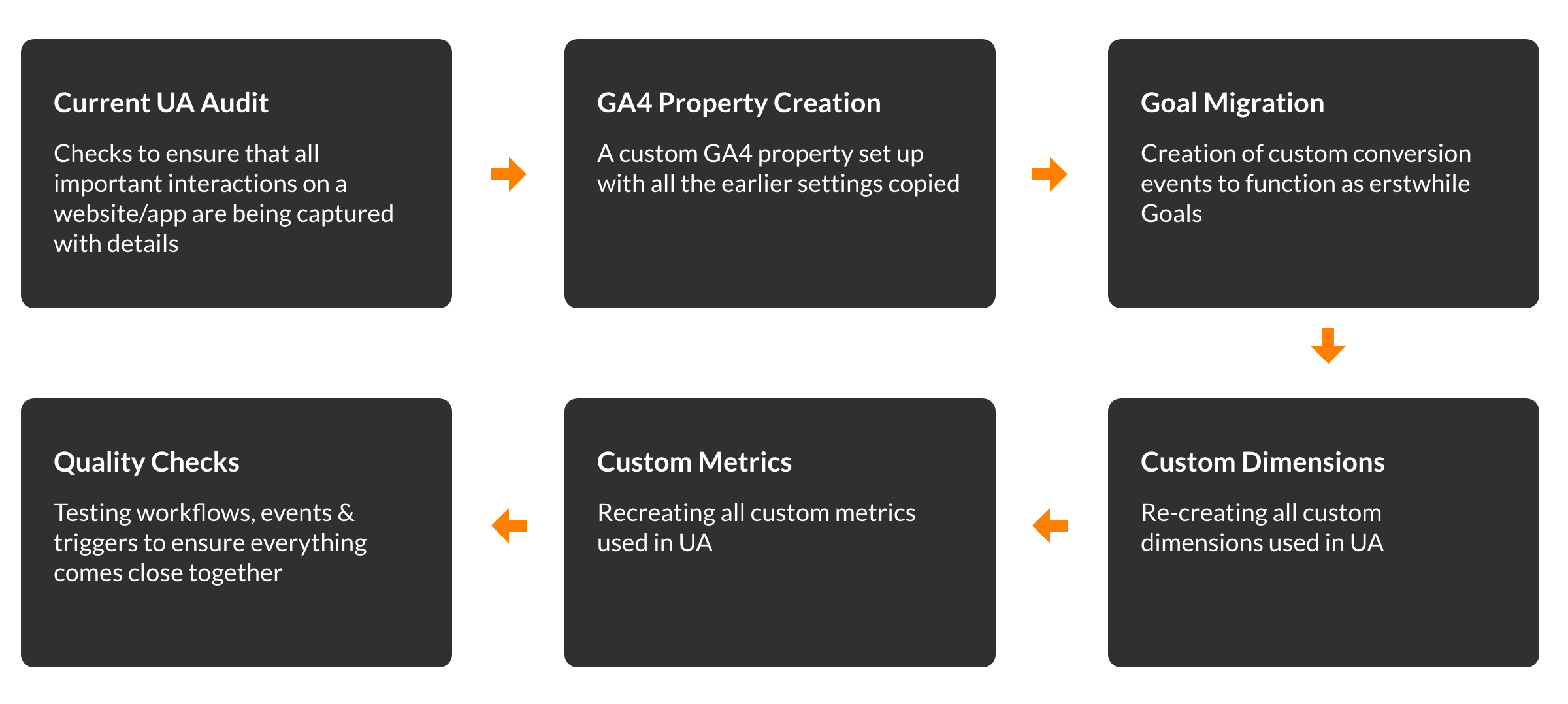 Figure 1: iQuanti's approach to the GA4 migration process  
We implemented GA4 migration solutions to 13 web properties across US, Canada, Australia, and New Zealand. These solutions had three milestones:
Discovery/strategy
Implementation
Validation
In addition, iQuanti provided mobile app analytics implementation for the company's mobile applications.
To make sure that the implementation was aligned to business goals, iQuanti worked with stakeholders to develop a solution design reference (SDR). The SDR serves as the single source of truth for the team and drives decisions around metrics, KPIs, and reporting.
The project also involves custom implementation of the entire conversion funnel and tracking some important engagement level metrics that were not tracked before.
Additionally, to enable their teams to leverage analytics better, the client requested training on GA4. iQuanti drew inputs from the client's team on the type of questions they had on reporting and tool usage and devised a training program tailormade for them.
The Impact
While the implementation is ongoing, the precise workflows and structure deployed by iQuanti are leading to a smooth and error-free transition experience for the client and delivering results beyond mere GA4 migration.  
Our structured, data-led approach helped us to: 
Create a holistic view of organization-wide data

using roll-up reporting and drilled down views for countries using sub-properties

 

Identify gaps in tracking of conversion funnels

and create additional events to follow user journey through the funnel. For example, we created additional events to differentiate between a fresh booking vs a modified booking, both of which were being recorded as conversion earlier

 

Uncover fresh insights on customer journeys

by tracking navigation points that were not being tracked previously. This is designed to help the business identify where users are dropping off during conversion 

 
Further, the implementation is setting standards in terms of data collection through solution design documents, validation documents, and so on, that the business can build upon in future implementations. The data collection activity is also geared toward helping the brand understand its users better, in turn helping the team deliver personalized campaigns to their website users.  
Driving efficiencies in GA4 implementation
Additionally, this project helped the team at iQuanti gain efficiencies in GA4 implementation. We have cut down the time for GA4 implementation for the first property to 2 weeks, if we have clear existing documents (SDR/BRD) from the client. Where the client does not have their existing measurement plan in place, we have worked with them to address that. While scaling up to additional properties, we have successfully migrated up to 73 properties, in a month. 
Are you looking to implement GA4 quickly, efficiently, and seamlessly? Get in touch with us today!