Laurel Road leveraged content and SEO to establish itself as a banking and financial partner of choice for doctors
The Client
Laurel Road is a digital banking platform and brand of KeyBank that provides tailored offerings to support the financial wellbeing of healthcare and business professionals. Laurel Road's banking and lending solutions, including Loyalty Checking and High Yield Savings accounts, Student Loan Cashback Credit Card, Student Loan Refinancing, Mortgages, Personal Loans, and more, provide their members with a simplified, personalized experience that helps them better navigate their financial journey and achieve life's goals. Through KeyBank's acquisition of GradFin, one of the nation's leading student loan consultation providers, Laurel Road offers student loan counseling services that help borrowers manage and understand their options.
Laurel Road has reimagined banking and financial wellness for physicians and dentists through Laurel Road for Doctors, a tailored digital experience made up of banking, insights, and exclusive benefits to provide the financial help and peace of mind they need through each career stage. In the spring of 2022, Laurel Road also launched Loyalty Checking, the first checking account designed with nurses in mind, furthering the company's commitment to healthcare professionals.
The Challenge: Establishing Laurel Road as the Destination for All Things Finance for Doctors

In 2021, Laurel Road decided to expand its offerings for physicians. "From our work with doctors, we knew that they faced challenges managing their finances while navigating student loans, mortgages, and demanding careers dedicated to caring for others," said Alyssa Schaefer, General Manager & Chief Experience Officer at Laurel Road. "To reaffirm our commitment to supporting and honoring our physicians and dentists, we decided to launch Laurel Road for Doctors to be the go-to resource for all their financial needs. We continue to focus on the Laurel Road mission, treating our doctors to financial peace of mind."
As a digital-first company, Laurel Road aimed to leverage its website to gain the attention, loyalty, and trust of its target audience. This meant that the brand needed to rank well for relevant online searches by physicians and address their information needs with quality content. However, the healthcare banking space is a highly competitive one, with several established companies targeting the same audience and keywords. Laurel Road was a new brand to this audience. This called for an innovative approach that focused on the audience's online experience and information needs.
The Solution: A Content Hub Designed to Meet the Target Audience's Unique Information Needs
Laurel Road partnered with its SEO and content partner iQuanti to build a comprehensive content and organic search strategy designed to deliver a one-of-a-kind digital experience to its audience. This included:
A dedicated section on the Laurel Road website: Called Laurel Road for Doctors, iQuanti collaborated with the client to design and develop the experience off the back of extensive customer surveys and industry best practices.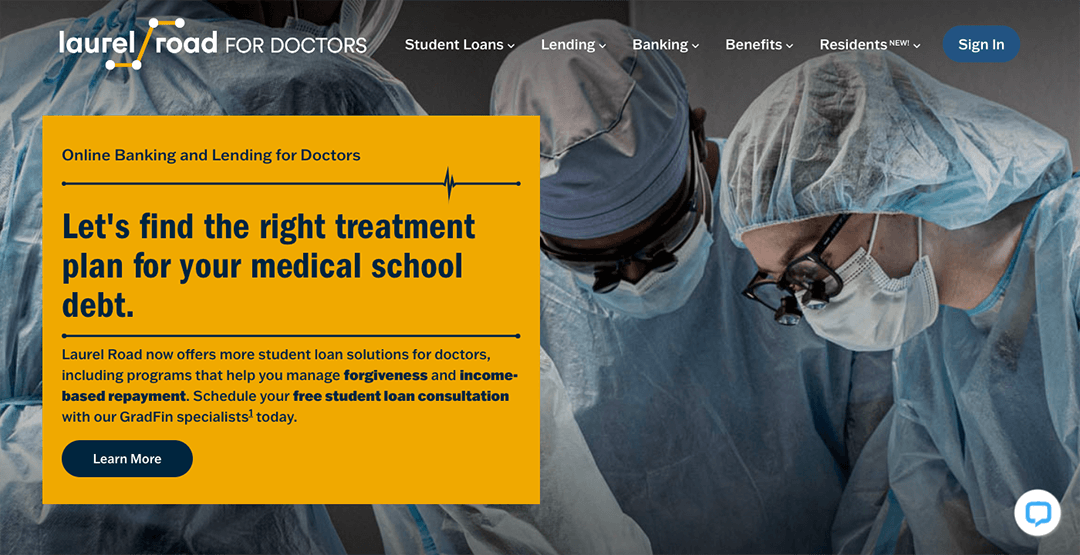 A content hub: This hub featured interactive, mobile friendly content like calculators and quizzes tailormade for addressing doctors' and dentists' financial information needs. The content for the hub was planned and designed after detailed keyword research which helped iQuanti identify relevant topics and content assets. The iQuanti and Laurel Road teams then collaborated to create new content experiences.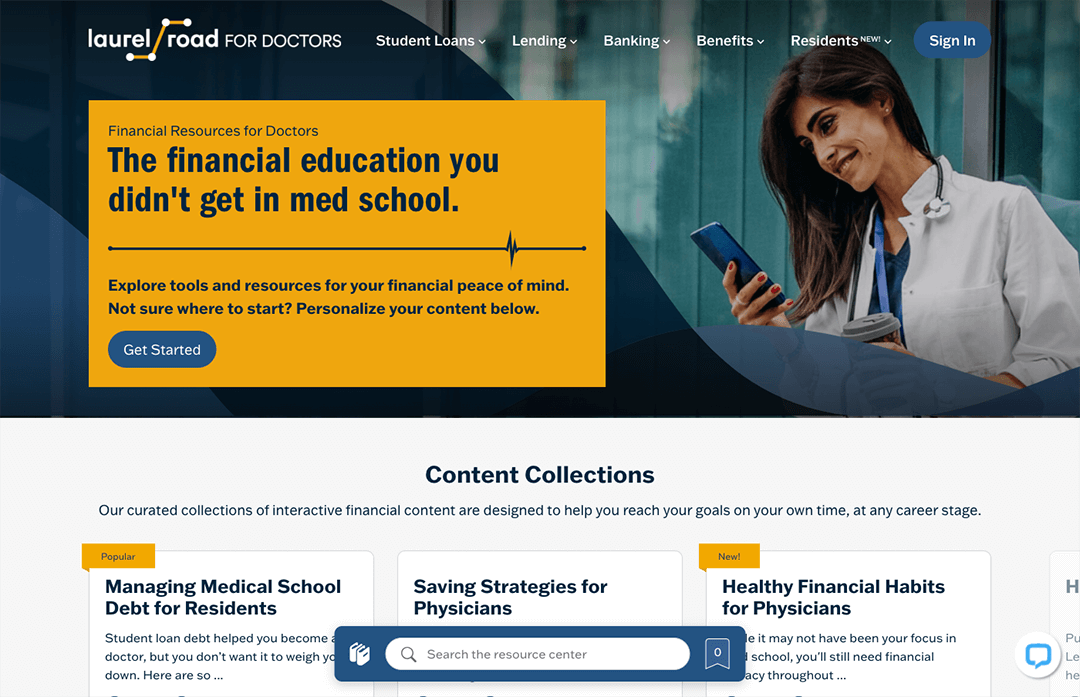 Laurel Road for Doctors content hub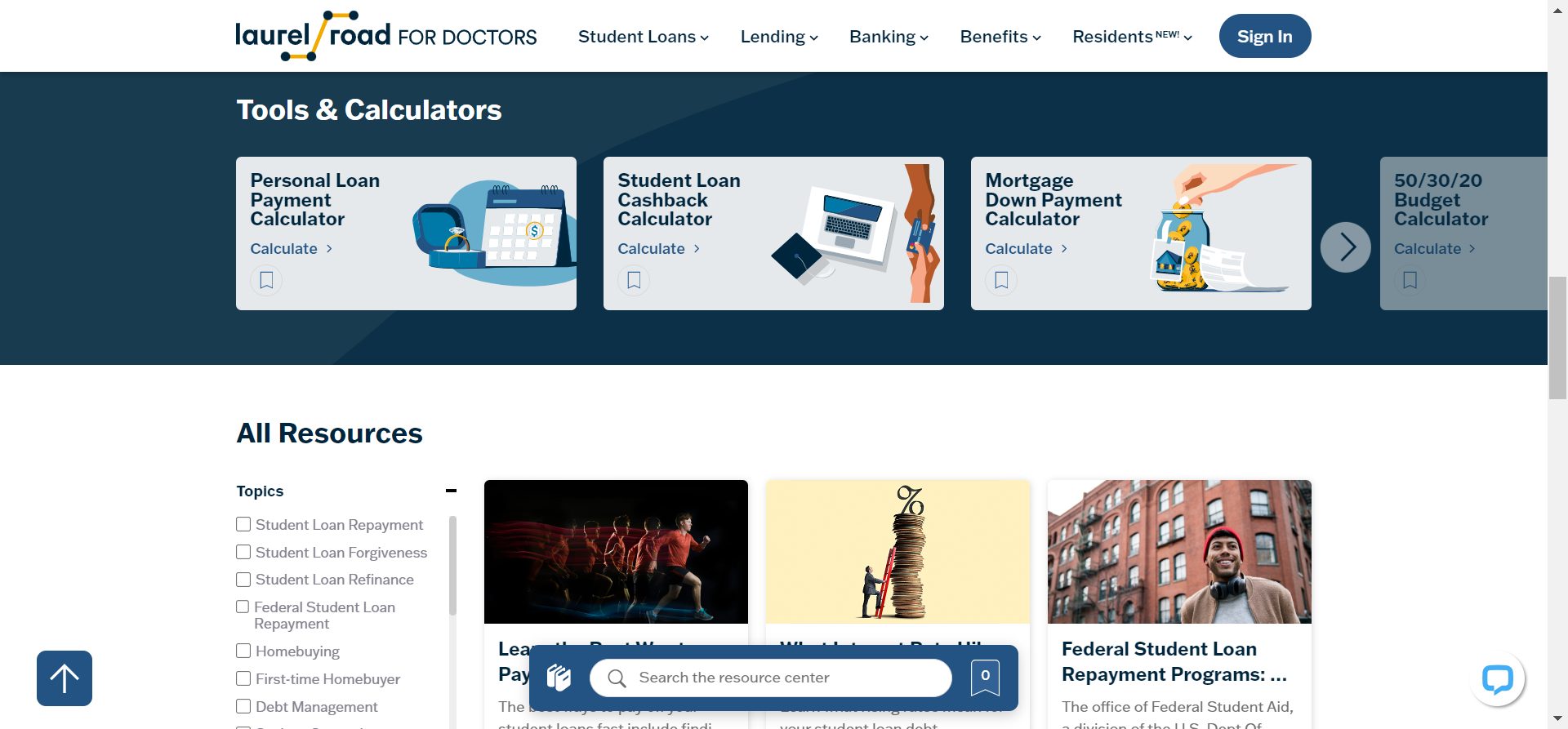 Site architecture optimization: iQuanti worked with Laurel Road in optimizing the URL and site architecture and launched the healthcare banking experience on a separate folder on the main site.
Link building for authority: iQuanti's team initiated external link building activities and implemented internal linking to boost authority.
The Impact: Expanded organic footprint on page one of Google Search results, ranking #1 for several target keywords
In a matter of months, iQuanti worked with Laurel Road's team to launch 50+ product and content pages aimed at a healthcare banking audience. Combined with other SEO efforts, this new content helped drive search engine page rankings and relevant organic traffic to the brand's site.
The brand's organic footprint for healthcare banking – the total number of non-branded keywords that Laurel Road pages ranked for on Google Search results pages – grew by 381% between March 2021 and August 2022. Within this, page one footprint increased from one to 428, notably ranking for position 1 for the coveted "bank for doctors."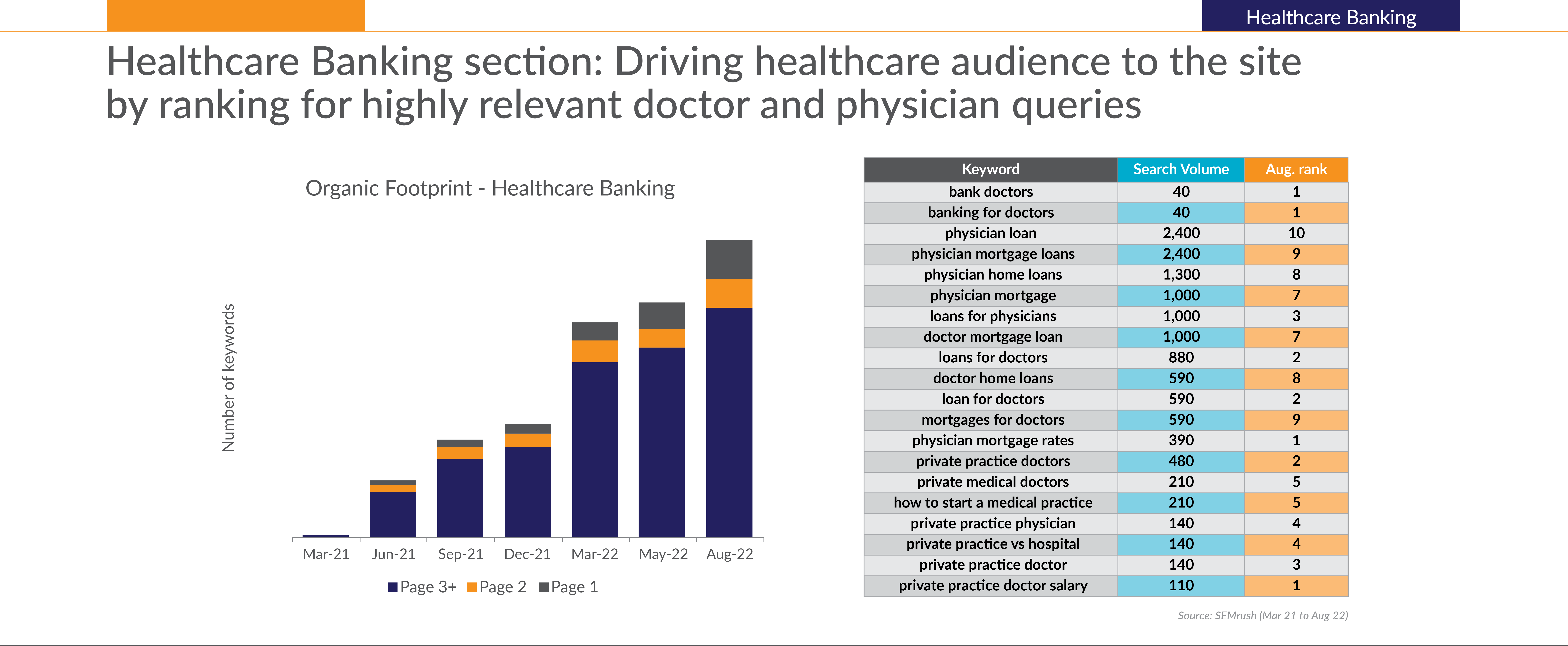 Additionally, this successful launch served as a template for launching a new set of offerings for nurses. iQuanti drove the creation of 21 pages for the nurses category, including 15 resource pages, enabling the brand to rank #1 for "bank for nurses."
iQuanti and Laurel Road are continuing to collaborate on identifying and leveraging new opportunities for growth. The team is continuously working on building more backlinks and optimizing Core Web Vitals to improve authority and technical scores for Laurel Road.
Most importantly, after delivering two successful launches in as many years, Laurel Road is able to double down on its vision of expanding the reach of its innovative digital banking and financial services to new markets and customers.
For a detailed walkthrough of the case study or for insights on how you can meet your marketing goals, get in touch with us at marketing@iquanti.com.