The Client
A leading US-based multinational financial services corporation
The Challenge: Getting the Attention of Millennial and Gen Z Customers
Our client is one of the most valuable brands in the world, well known for its innovative credit card products and best-in-class service. And while its reputation with its traditional customer base of older premium customers was cemented, it knew that to retain pole position in credit cards in the future, it needed to build a relationship with younger customers. The young audiences it was targeting were not the premium segment that the brand usually serves, but they were frequent users – and growing in influence and purchasing power.
Targeting this group meant meeting their Millennial and Gen Z customers where they are – in digital spaces online, especially on search engine result pages (SERPs) where buyer journeys typically start. To do this it needed to rank well for non-brand keywords.
The Solution: A Content Hub to Educate, Engage, and Convert the Target Audience
The brand reached out for help to its SEO partner iQuanti, a data-driven performance marketing agency focused on the banking and financial services industry.
"After sitting down with the client to understand their challenges we realized that the goal was two-fold. One, the brand needed to rank better for its target keywords to get in front of its customers. Equally importantly, it needed to educate its new audience of the advantages of using its credit cards versus that of the competition. The good news was that both goals could be met by devising a well-thought-out content strategy," says Vidika Sadarangani, who leads the account's team at iQuanti.
iQuanti's competitive research revealed that the top-ranking pages for the segment had content hubs on their websites. Consequently, iQuanti recommended that the brand build a content hub targeted specifically at its new audience. "Our vision for this content hub was that it would be the go-to destination for personal finance and credit card education for the client's Millennial and Gen Z customers. We wanted this hub to be the source from where they learnt how to make smarter money decisions for their life's milestones and everyday transactions, building not just traffic and search ranking but also customer trust and loyalty" says Vidika.
The client tasked iQuanti with executing this content strategy. The team adopted a structured approach that brought together data, SEO, and content best practices to create a one-of-a-kind financial education center.
First, iQuanti ran detailed keyword research to better understand what the target audience searches for and uncover opportunities to meet their information needs.
Next, it identified topic ideas for different types of credit intent and created a content calendar designed to meet their audience's information needs at every touchpoint in the customer journey. To start with, this included educational articles, case studies, and Q&As on topics including managing credit cards, finances, credit scores, and travel.
iQuanti then onboarded a content agency to write the content, providing clear direction on the client's branding, positioning, tone of voice, and style. iQuanti's experience helping Fortune 500 clients in the highly regulated banking industry was pivotal to creating content that was compliant and engaging at the same time.
We worked closely with the client's content management team to ensure the articles have all the SEO elements implemented correctly.
"Several teams were involved in executing the plan, and we had to balance multiple, often contradictory goals," says Vidika. "Working with a bank means that there are restrictions around what we can write. At the same time, we needed to create financial content that would engage our young audience. Plus, the content had to be optimized for search, too. We balanced these goals by sitting down with the content agency and the client to find a middle path."
The Impact: A 90% Increase in Organic Traffic for Non-Branded Target Keywords
The impact of the content strategy became apparent immediately after launch. Organic traffic to the brand's site increased steadily, with traffic to the content hub increasing by about 90%. This increase in traffic was driven by multiple factors including increase in brand searches, improvement in ranks, and growth in click through rates seen until Q3 (seasonal traffic typically dips in Q4, and in 2022 the volume had further declined due to macro-economic conditions impacting demand and higher competitive action seen on paid search). What's more, traffic increase YoY was seen across all the category types.
Also, keywords visibility continued to increase for the content hub in 2022, with a 46% increase in non-brand rankings despite a drop in Q4 due to shifting of brand keywords between the client's business units.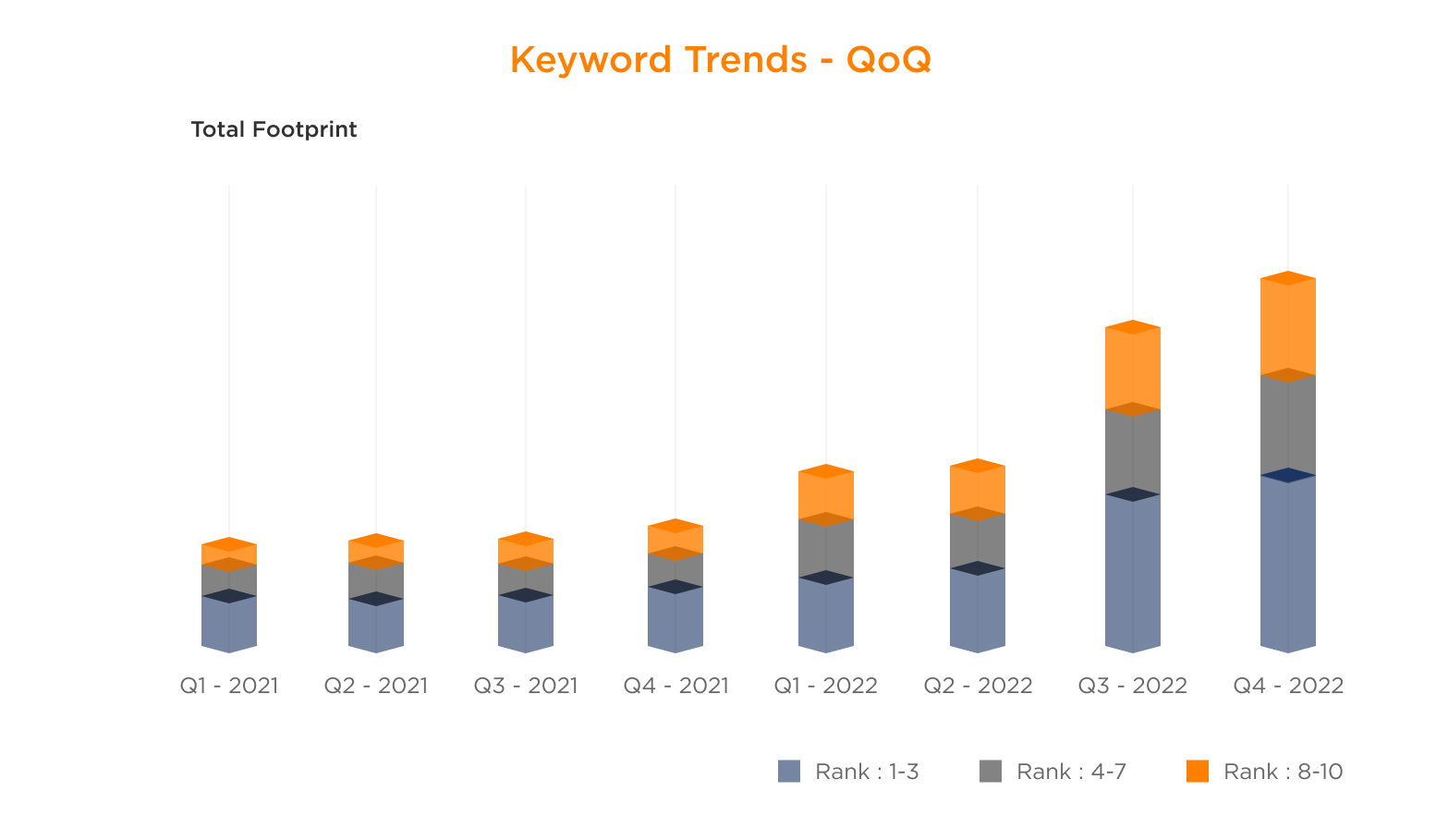 Figure 1: Traffic trends for 2021-22
The 2023 content roadmap for the brand takes into account the evolving search landscape and shifts in consumer behavior, focusing more on non-brand keyword strategy and increasing the keyword footprint. And even as iQuanti continues to evolve and optimize its content strategy, it retains the focus on high volume topics that interest the
Gen Z.
"We are constantly testing new content formats and page experiences to see what works best for the client's target audience. Ultimately, the goal of our content strategy is to offer a simplified user experience that lays out clear paths for customers to continue to engage with content or convert, depending on their decision journey," says Vidika.
Most importantly, the partnership is helping the brand take its innovative products to a brand-new audience, securing its future as a top financial services enterprise.
Curious about how you can level up your content strategy to drive long-term SEO success? Download our thought paper for actionable insights. Or contact us for a consultation!