With the breakout of COVID-19 and the rise of remote work, social distancing, and shelter-in-place policies, people are increasingly relegated to spending time indoors, affecting the viability of businesses that rely on foot traffic and person-to-person interactions (retail and hospitality certainly, but even banking and financial services).
In the wake of this tumult, many bank advertisers have taken to social media to keep their businesses afloat and their consumers engaged, offering digital options ranging from virtual workout classes to webinars as alternative content.
To their benefit, the costs to reach users has decreased substantially as well, caused by two factors.
Some advertisers are forced to pull marketing spend away from social media completely, reducing the competition for impressions that drives up CPMs. For companies that are able to maintain a presence, it is a ripe time to capitalize on the CPM reduction seen in excess of 57% from the 7-month high experienced in November 2019.
At the same time, users are spending substantially more time online and on social media; according to a study from Kantar social media engagement has increased 61% over normal usage rates, meaning there are more opportunities to reach and engage users than before.
With these factors in mind, below are five ways companies, especially banking and financial services organizations, can leverage social media to relay their business messages, engage with their followers, answer their customers' burning questions and concerns, and even promote philanthropy.
 1. It Starts with Social Listening
Social listening has long been adopted by savvy marketers as a way to keep tabs on the conversation surrounding their product, their brand, and their competitors. What is most often a tactic to gauge consumer sentiment in a more siloed capacity, has been expanded to consider topics outside this limited purview.
However, it is not enough to simply boot up a query for "coronavirus" as a whole. Twitter recently reported that a new tweet about COVID-19 is sent every 45 milliseconds and #coronavirus is the second most used hashtag of 2020; you will spend a large chunk of your time weeding out unnecessary and irrelevant discourse.
The best way to narrow down this data is to query COVID-19 and related terms (i.e. pandemic, coronavirus, etc.) alongside terms that are business relevant (vertical, product, brand name, etc.). This will allow businesses to better place themselves and their value amidst the ongoing discussion and identify topics in their milieu.
As an added step, businesses will have to set up a system of actively listening to the ebbs and flows of the conversation. Beyond categorizing whether a sentiment is positive, negative, or neutral, companies using social listening will need to track the specific trends and themes within the conversation at any given interval. Already, the sentiments expressed about COVID-19 have changed numerous times from defining the illness back in December 2019, to tracking its spread internationally as the first case arrived in the U.S. in January 2020, to its impact on scheduled events in the wake of the Coachella postponement, to the disbursement of stimulus payments, with many permutations in between.
Monitoring in this way will allow businesses to produce timely, relevant, and specific content that is in lockstep with consumers' discussions.
Read iQuanti's insights on "Responding to COVID-19: Social Listening Strategies for Financial Marketers" here.
2. Adapting Messaging for Time Sensitivity
With the news cycle as it is today, it is impossible to escape coverage of COVID-19. In fact, it is hard to remember what we even talked about before the pandemic took hold.
Right after "social distancing", it is the word on everyone's mind and everyone's lips.
As customers continue about normal processes like checking social media, accessing their bank accounts, and so on, the pandemic and 'COVID-19' is always in the back of their minds. Keeping this in mind, brands have been forced to adapt their messaging output to acknowledge the crisis at hand and frame their product or offering in the context of the real world. One company doing this well is Marcus by Goldman Sachs.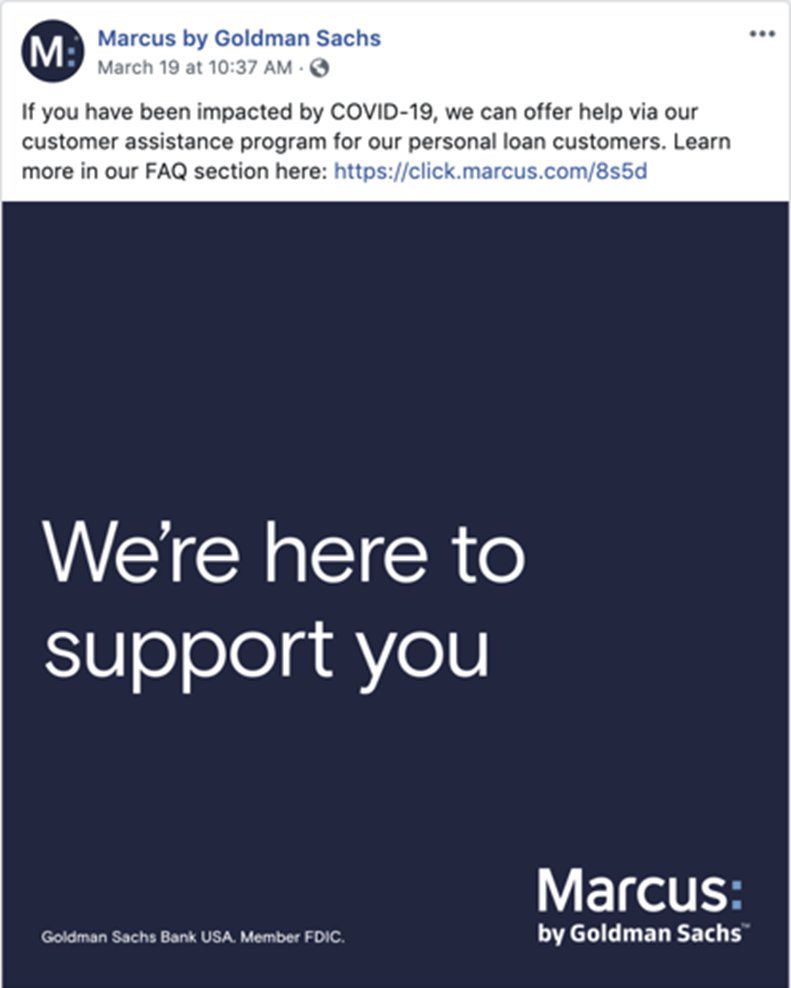 Using language like "we can offer help" and "we're here to support you", positions the company as an aid in times of crisis. Marcus has successfully pre-empted customer questions around how their bank-of-choice is managing affected customers by taking to social media with their response strategy.
3. Increasing Accessibility with Video
With the increased time spent engaging on social media platforms, users are primed to spend more time-consuming video content to pass the time.
Looking at live video on Facebook, for example, the platform has seen an increase in usership of 50% since February. Companies are taking note by investing in their own video content production to engender audiences to tune in.
One such avenue is the live video.
This format allows companies to create an atmosphere of availability and authenticity by placing their experts at the forefront to discuss topics ranging from gaining loan approvals for small businesses to strategies to protect retirement savings.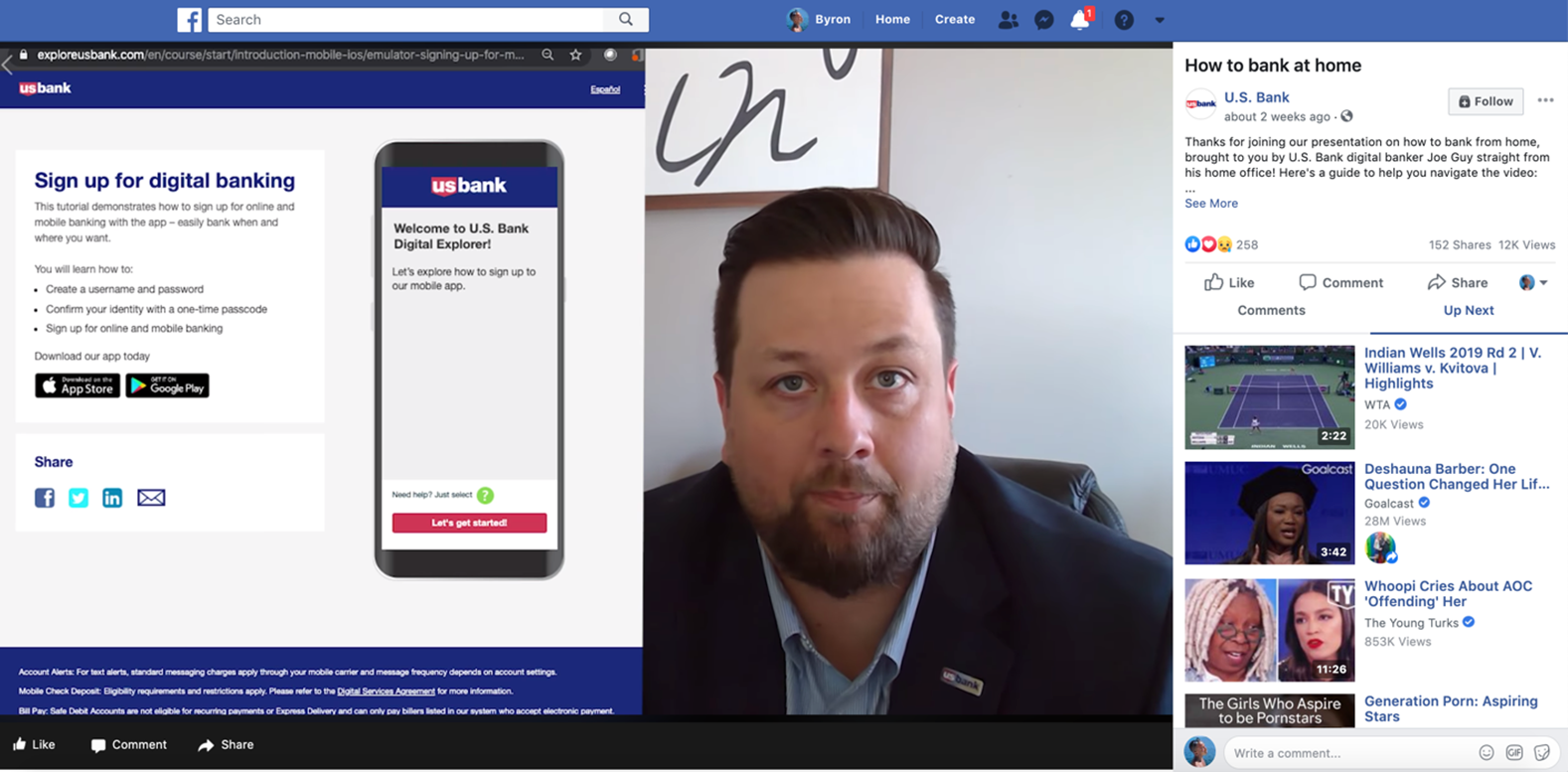 The above post from the U.S. Bank is a great example to see social employed in exactly this capacity. In their first-ever use of Facebook Live, they invited Digital Banker, Joe Guy, to educate consumers on the hows and whys of digital banking.
Integral to this format is the ability to receive real-time questions and provide real-time answers. At the outset of the video, U.S. Bank invited viewers to submit questions to be answered through the duration of the engagement and indicated that any questions that warrant it, will receive longer form answers, possibly in a similar format.
4. Direct Outreach with Interactive Posts
Today, brands are using social media to do more proactive outreach than ever before. They are activating on their social followings to understand the issues their customers care about during this time and responding in kind. Studies show that 80% of customers expect companies to respond to their social media posts.
Of these customers, 50% say they would stop doing business with a company that does not respond to a negative post.
Businesses understand the value of public social media profiles as a direct connection to their customers, but they also have to understand the inherent responsibility of availability that comes with that direct connection.
Particularly in uncertain times, it is important that companies show they are open, concerned, and listening.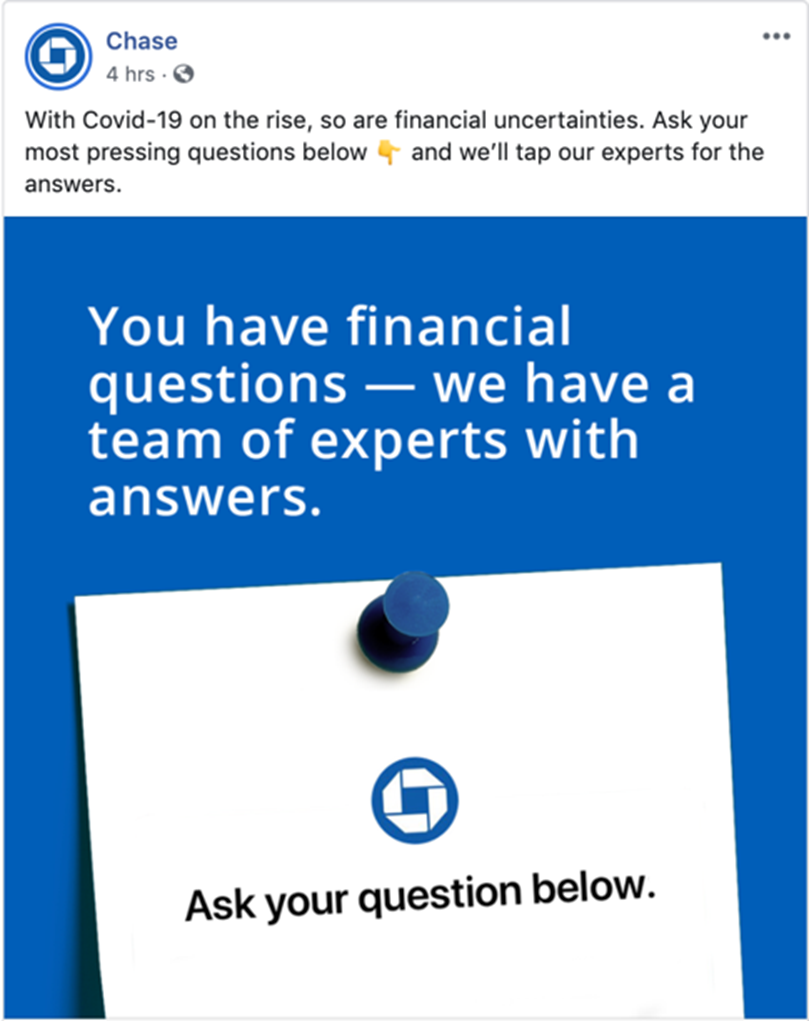 As seen with Chase, there is an action taken beyond simply acknowledging the crisis at large. Through social channels, they are able to go a step further and directly empower their customers to surface the issues that are most pressing to them in exchange for sound, expert advice.
With the economic downturn and looming uncertainty businesses should be investing their time in robust retention and engagement strategies, proving out their ongoing value and making their audience feel heard.
5. Acknowledging & Encouraging Good Community Efforts
Now more than ever, consumers are seeking out ways to get involved and engaged with COVID-19 relief efforts. The pandemic has engendered an increase in charitable giving and time spent contributing to philanthropy.
At a purely financial level, 25% of donors have indicated they plan to increase their donations. Brands are following suit, leveraging their considerable social media followings (and bank accounts) to amplify the messages of local, state, and national organizations working to provide relief.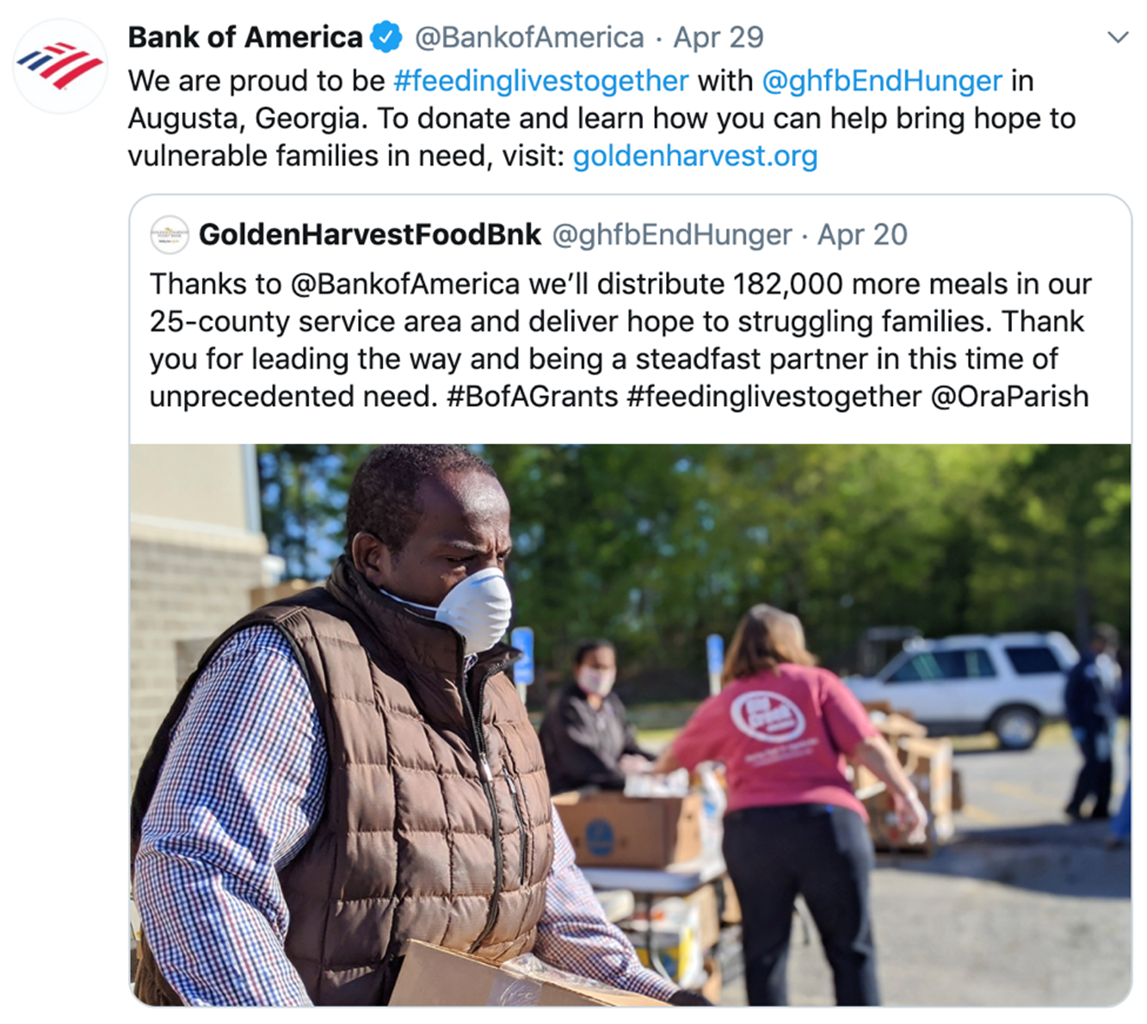 The synergy and communication between Bank of America and Golden Harvest Food Bank partnership are exemplified here. GHFB leads by promoting the work BoA has already done in the association, taking the onus off of the brand to self-promote at the risk of inauthenticity or self-aggrandizement. The work of the national brand's social media then is to help GHFB reach resonance with audiences unfamiliar with the organization and make it easy for the newly engaged to contribute to the work. In this virtuous cycle, BoA fulfills the role of an influencer—raising brand awareness and visibility through the channels where they know their audience is likely to respond.
At the end of the day, brands and businesses do not want to appear to be capitalizing on the situation. Any attempt to do so will be immediately snuffed out by consumers. However, through thoughtful messaging, strategic customer-centric initiatives, and philanthropic endeavors, these same companies can show their empathy and improve customer affinity and retention.
Have you found this article useful? Would you like to add thoughts and strategies to this list? Have questions? Write to our Social Media & Paid Solutions team today.