Findings from iQuanti's research survey to understand the triggers, motivations, and user behaviour for online deposits.
In the wake of pandemic aid in 2020 and early 2021, the overall deposits in U.S. banks had seen a significant rise. However, 2023 has revealed some interesting turns in this trend, driven by macroeconomic factors as well as shifting customer needs.
As noted in iQuanti's Q2 2023 edition of its quarterly performance marketing report for banking & financial services, following the banking turmoil and Silicon Valley Bank's collapse in March 2023, a need for safety and assurance drove a significant relocation of cash from small banks to larger players. Driven by better interest rates some customers also moved their deposits into online banks and other high-yield options like Apple's new Savings Account, which saw over 240,000 accounts opened by the end of its launch week in early April.
At iQuanti, we ran a first-hand survey to delve deeper into these changing customer behaviors, expectations, and needs and understand the customer decision journey for deposits in 2023. Our research covered 500+ Americans between the ages of 18 to 55 years, with an annual income between $25000 to $150,000, and who had opened a savings/CD/MMA deposit with an online bank (large online and midsize players) in the last 12 months. We ensured our survey population had a 50:50 split between males and females and a FICO score between 580-720 to avoid biases.
We found that among all deposit products, the highest surge in account openings was for savings deposits, with 92% of customers opening one in the last year. The share is higher among younger customers.
In this report, we cover the highlights across each stage of the online customer's journey through the three core stages – awareness, research & consideration, and purchase/post-purchase.
Awareness stage
The survey pinpointed two benefits that are the most sought-after by customers at the awareness stage.
Attractive offerings
(including higher interest rates and bonus offers)
Convenience
(including ease & speed of transaction and account opening)
Some key findings are highlighted below: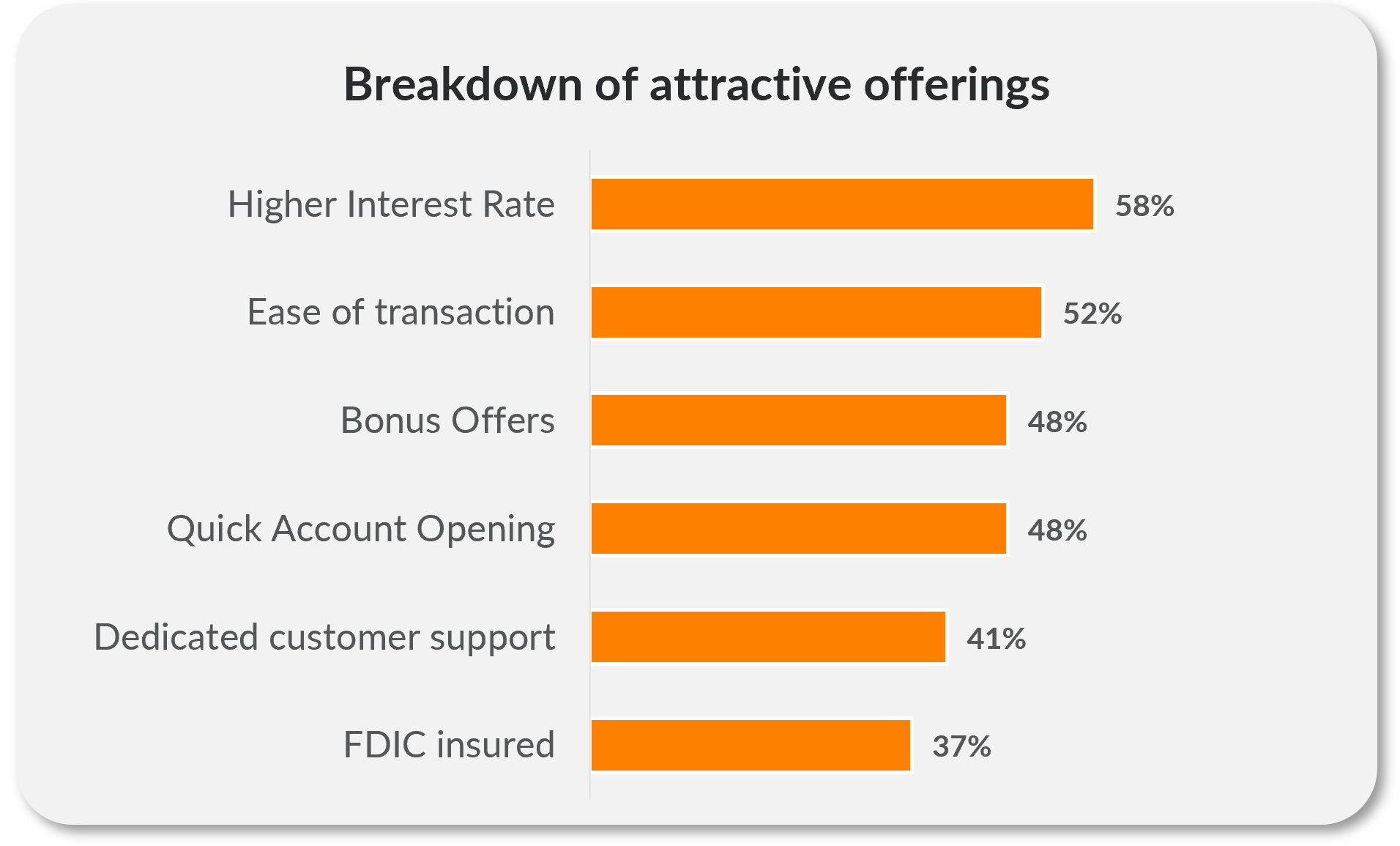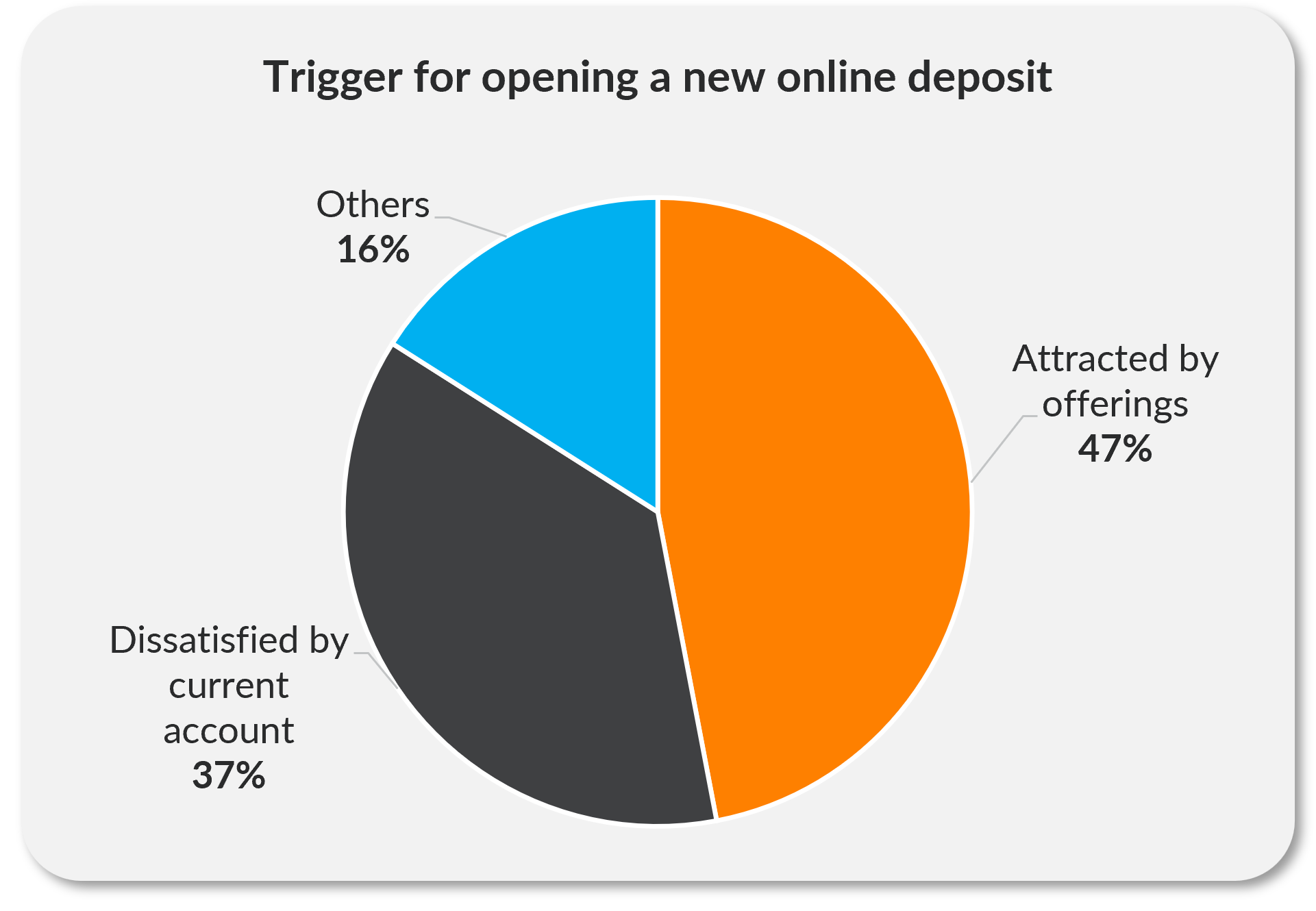 Higher interest rate is a key trigger for customers looking to switch to a new account, though the significance of this need seems to differ for different age groups.

Older customers rated this as their most significant trigger for switching to a new account (62%), whereas this was third in the list of triggers for younger customers between the ages 18 to 34 years.

Convenience-driven benefits are the second key trigger.

Convenience, including ease of transaction and quick account opening, are the core decision-making factors for young customers.
With affluent customers as well, convenience was a core need with ease of transaction, bonus offers and quick account opening as the core priorities.

Lower income groups are also dissatisfied with the service. 39% listed difficulty in accessing a branch/ATM as a core issue, whereas 35% stated that poor customer support often triggers a switch.
Need for security is a growing need for the younger customer segment (18-34 years) with 34% of customers seeking FDIC-insured deposits.
Research and consideration stage
Most information gathering/research happens online
Online sources are the go-to research and validation medium. While the company website is important, aggregators like NerdWallet also play a critical role in decision-making.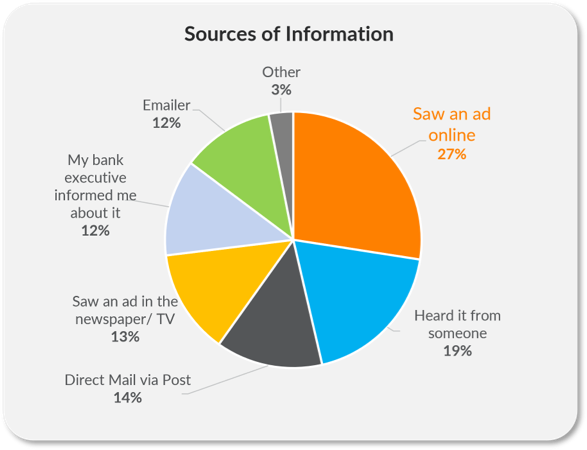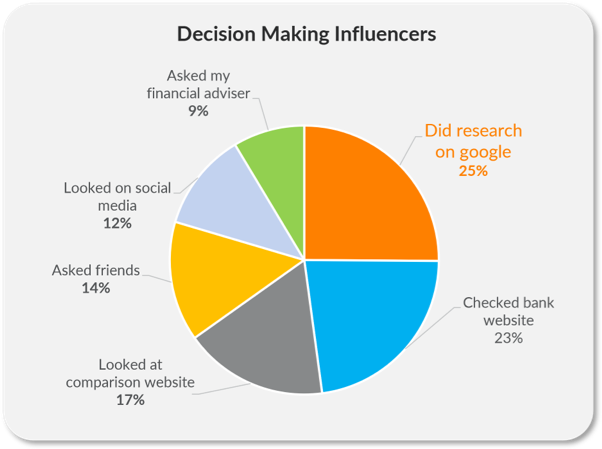 Overall, online is the preferred medium for information gathering and research. Offline information sources like friends and family and financial advisors are less preferred. However, a closer look reveals a more nuanced picture:
The impact of online ads and other online sources is higher for younger customers.

Journeys of 30% of customers under 34 years of age are triggered by an online ad they saw.
Google search is their preferred research medium – 26% do a Google search before picking a bank.
20% check a bank's website before choosing it.

Word of mouth is a strong influencer for lower-income segments.
A bank's website is a go-to source for authentic information, more so with the higher-income groups, where over 60% visited the bank's website before choosing a bank/account.
Younger affluents (<34YO, >150,000$) still look towards friends and family for suggestions on account options.
Additionally, validation is done via the official website and comparison sites.
23% look at the bank's website for details and 17% look at comparison websites.
Only 14% check with their friends and family, while only 9% ask their financial advisor.
The interest rate is great, the online banking and app experience is streamlined. The additional benefits that come with the account, like privacy protection and the cash back debit card are great, customer service has been great. I've continued to read bank reviews, and I remain convinced that I've chosen the best bank for me at this point.
– Survey Respondent
Simple processes and less documentation were the top influencers in the purchase/post-purchase stages.
When it comes to account opening, speed and simplicity of processes are the most important factors in creating a positive experience. Our survey found that online banks fare well on these parameters.
More than 96% of customers are satisfied with the account opening process. Over 70% noted that they are extremely satisfied with the simplicity and ease of processes online.

This satisfaction level is higher in higher-income groups. This could be based on the superior experiences delivered at the banks they opted for.
It (the account opening process) was easy and quick. Didn't require any fees or minimum balance, no hours of signing documents, going to the bank in person and waiting for 30 minutes dealing with rude, condescending, snobby bank tellers and access to way better interest rates and money management tools.
– Survey Respondent
Because everything was understandable and easy to read. The app itself is easy to navigate, and it just makes sense. Any rewards you get are clearly communicated and that's exactly what you get as well. There are no hidden fees, etc.
– Survey Respondent
The survey also revealed clear winners in terms of preferred banks for specific customer segments.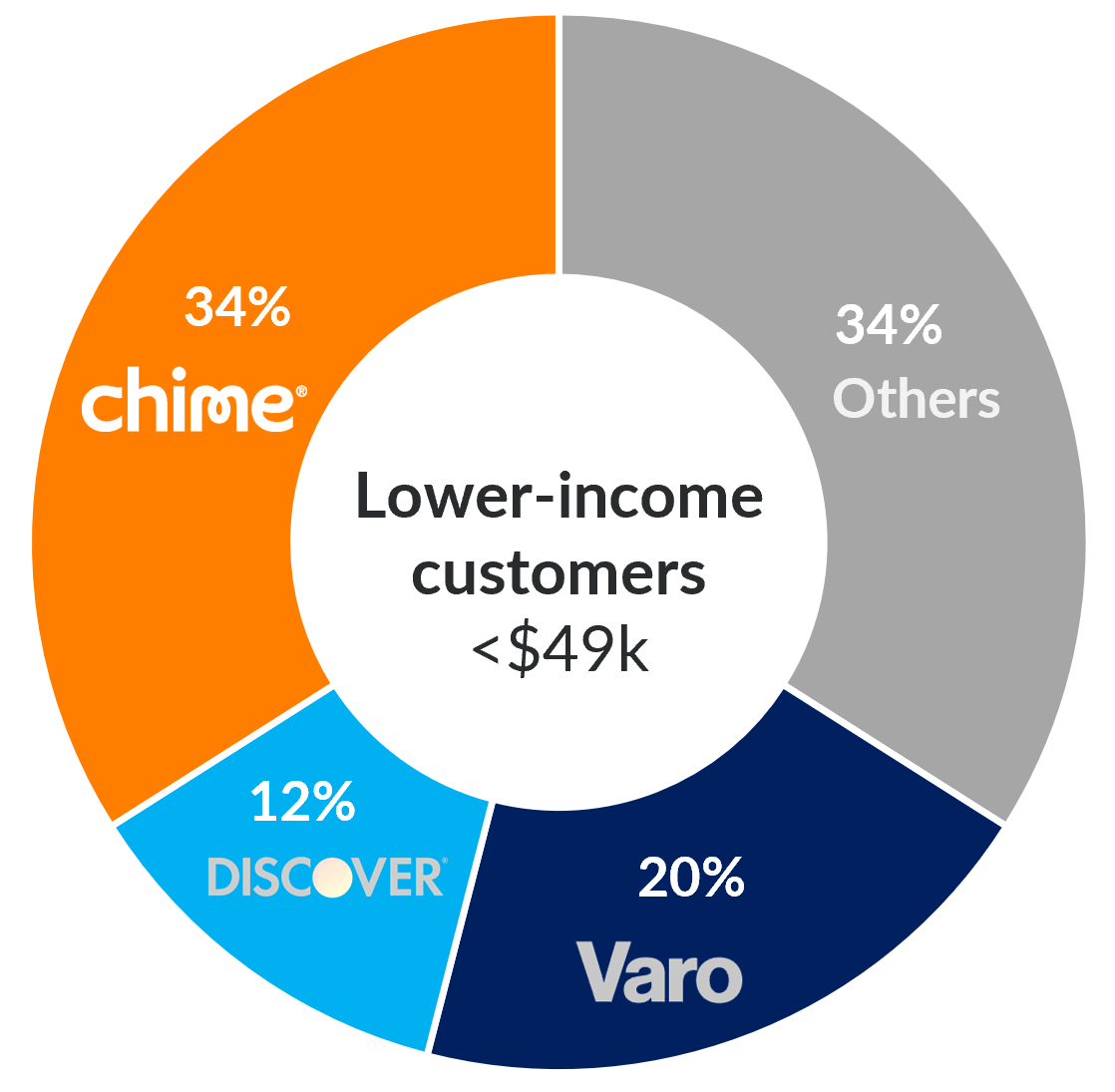 Chime is the most preferred bank amongst the lower-income segments followed by Varo Money.
American Express is the clear choice of account among affluent customers with 57% of consumers opting for an AMEX account followed by Capital One 360.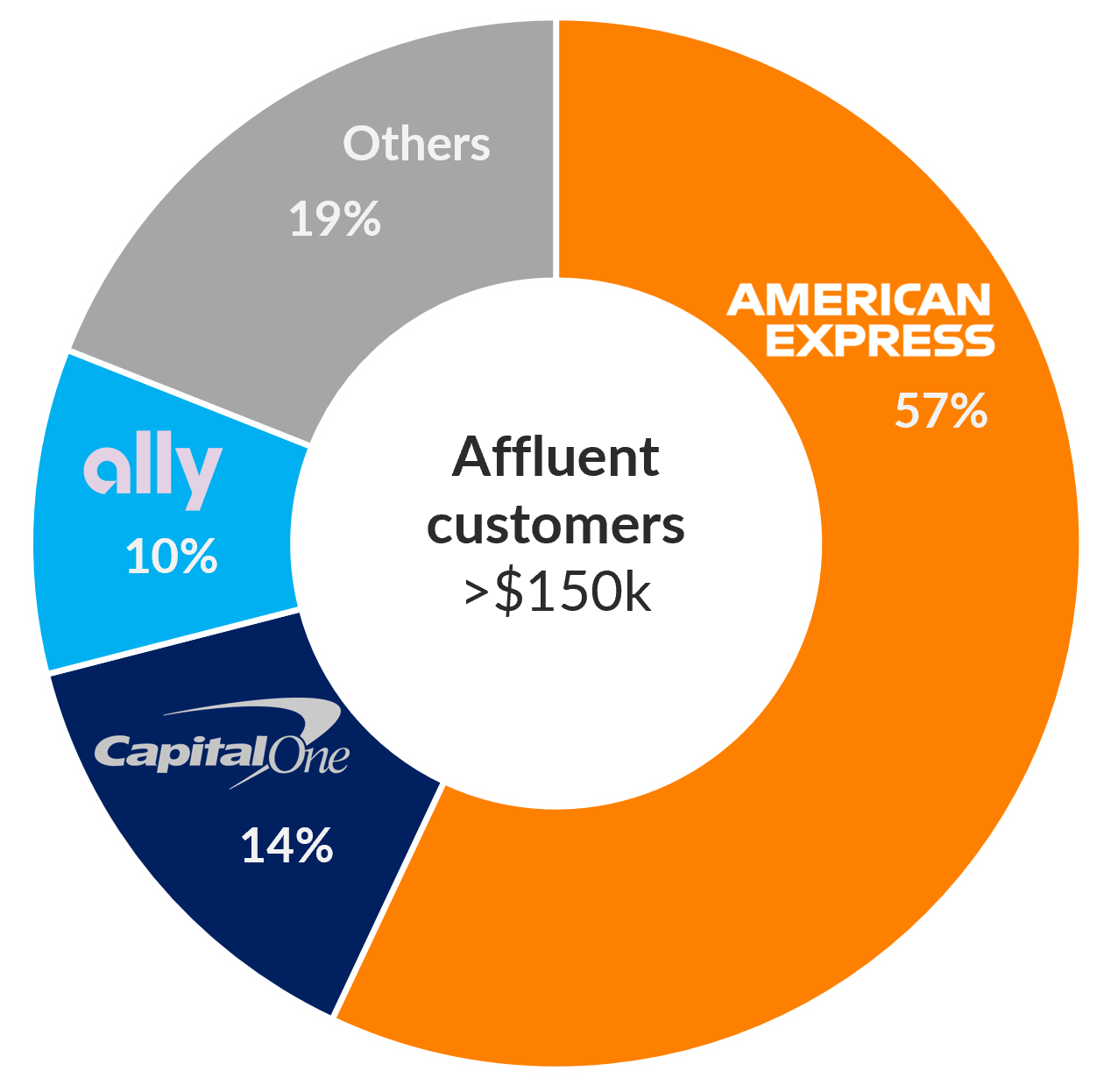 American Express wins across Gen Z, Millennials, and Gen X customer segments as the preferred account-of-choice.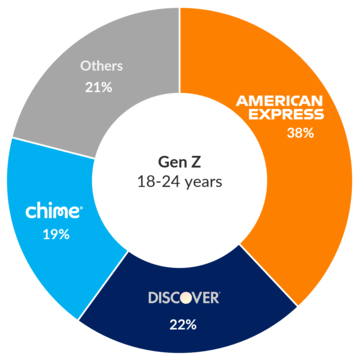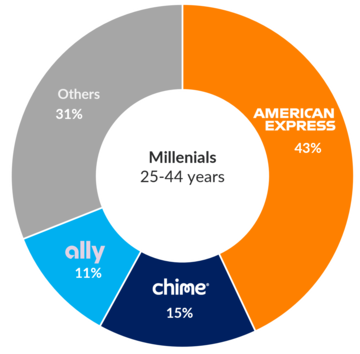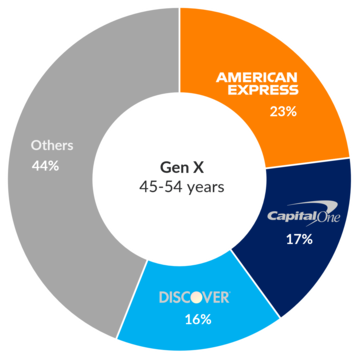 What does this mean for marketers?
Financial marketers can use these insights to help pivot and personalize messaging to focus on the core triggers for each customer segment at every stage of their journey. Let's take a look at what that could mean.
Awareness stage: Focus on personalizing your message to address the customer's need/priority clearly and directly. Pivot focus of the current messaging strategy, where necessary.
The data speaks volumes about what different customers are looking for at every stage of their purchase journey. With a deeper understanding of what triggers their information search journey for a particular product, marketers can personalize their messaging to ensure they captivate their audience from the get-go with what is most important to them.
So, ask yourself, what is the additional value that you bring to the table that can excite your customers? Here are some examples of potential themes:
Convenience: If you know that convenience is a important to a customer, delve into the facets of convenience that may impact their behavior – for example, a 6-hour approval cycle or dedicated online customer support. Personalize your message to address the need/priority clearly and directly.
High interest rates/free overdraft: While these recognized as a critical factor in the awareness and consideration phases, talking about interest rates and overdraft fees is a matter of messaging hygiene even at the awareness stage – something you must cover. And so will everyone else.  
Let's take a quick look at the messaging on Chime's home page. Our survey shows that Chime was the preferred bank among the lower- income segment customers, and you can see how they are poised to move customers along the purchase journey.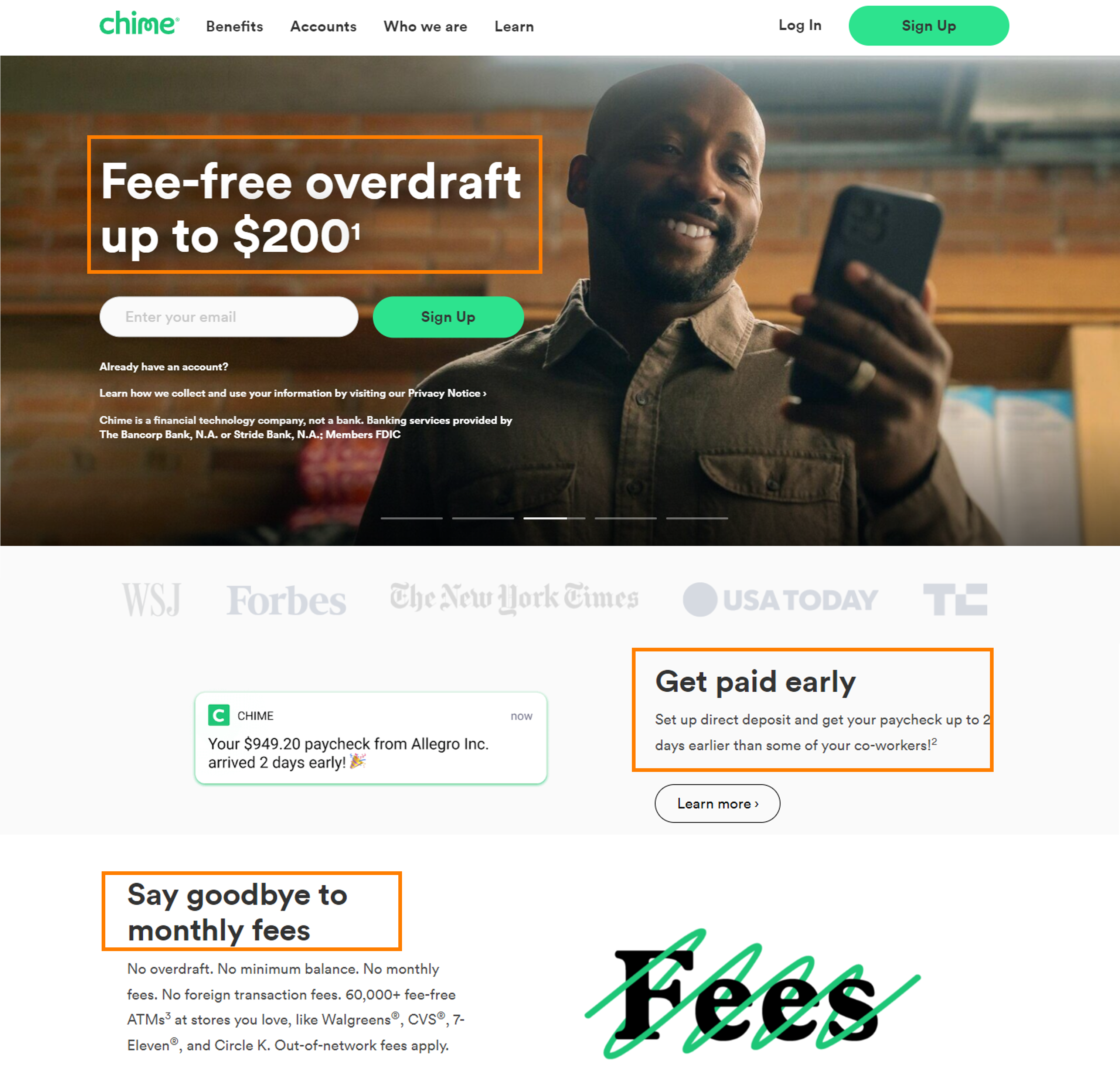 Security: Fraud prevention and FDIC insurance has emerged as a critical conversion factor in our survey, with 37% of respondents acknowledging it as a preferred offering from their service provider.  But not all online deposit players are currently focusing their messaging on meeting the customers' need for assurance. Here is an example of Discover doing this extremely well.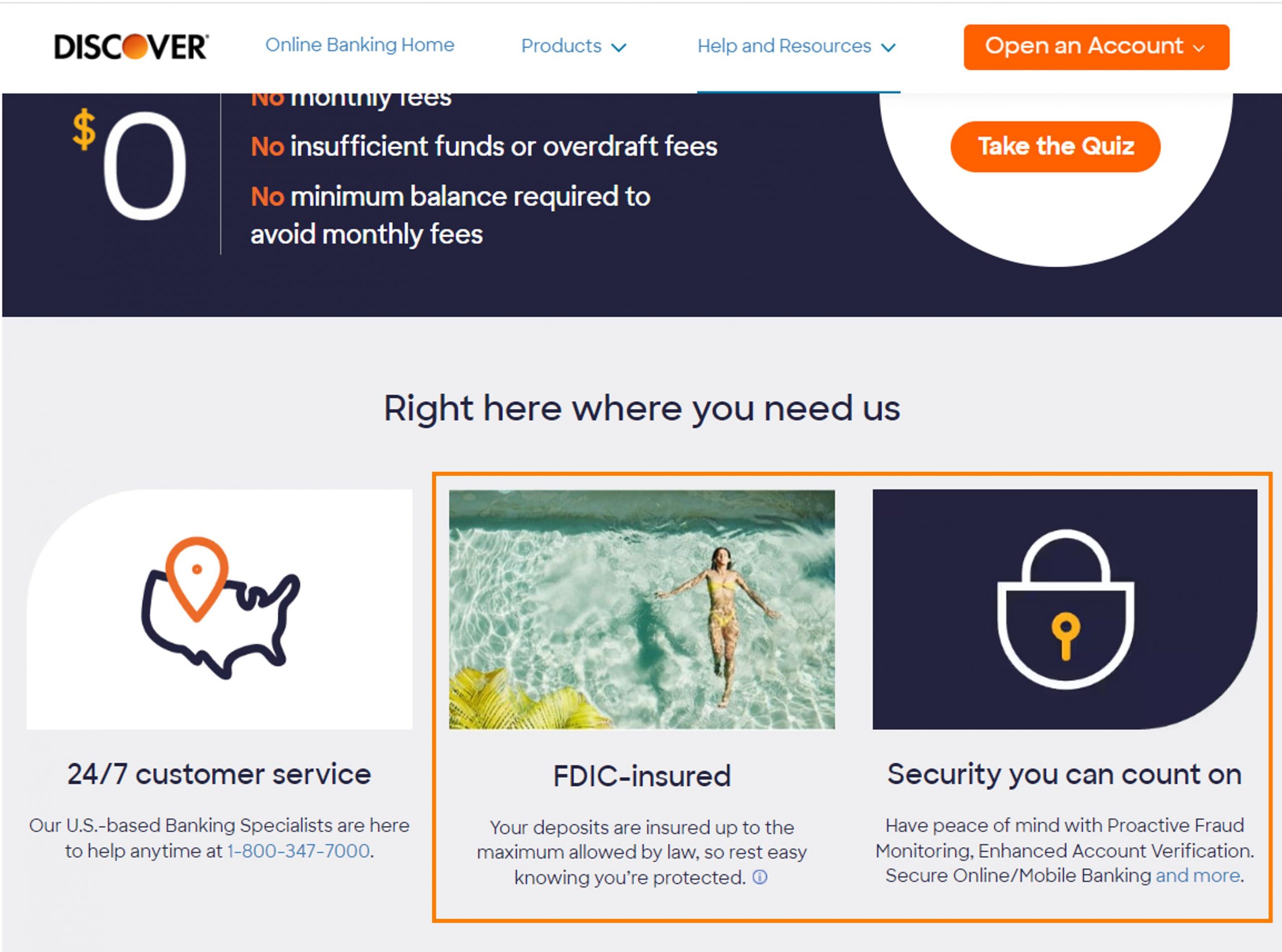 Let's take a quick look at the messaging on Chime's home page. Our survey shows that Chime was the preferred bank among the lower income segment customers, and you can see how they are poised to move customers along the purchase journey.
Awareness & consideration stage: Focus on the right channels to deliver get the right messages at the right time for maximum impact and to ensure a full-funnel connection across channels.
Marketers can glean valuable insights from our study about which channels to invest their marketing dollars in to reach a customer most effectively in their research and consideration phase. The focus needs to be on ensuring a seamless, full-funnel connection for customers, across channels.
Our data shows that customer journeys for close to 30% of customers who are 34 years old or younger are triggered by an online ad they saw. Marketers need to analyze what channels really make a difference and actively look at opportunities to reach them via a personalized ad in a contextual manner on the channels that they are using for their research.
In addition to paid ads, brands must also optimize for organic search – over 25% of customers research brands on Google before visiting a bank's website or app. This means that a brand's website and presence on affiliate websites are vital to driving visibility.
Purchase stage: Focus on product/service benefits to provide a clear incentive to convert
The purchase stage is when the rubber hits the road. Can the brand deliver on the promises it made in the earlier stages? To trigger a purchase, brands need to enable an exceptional experience – easy processes, quick response times, and a customer-centric approach to service are critical to closing a sale.    
As a performance marketing agency focused on banking, financial services, and insurance enterprises, we'll continue to keep our fingers on the pulse of the customer. If you have any questions about our survey methodology or need more details about a specific segment/stage, please feel free to reach out to our banking & financial services performance marketing experts today. Email us at marketing@iquanti.com.
For more insights on performance marketing and banking and financial services, download the latest edition of our quarterly report on digital marketing and banking trends and their impact on financial marketers.