Today is National Pi Day.
Wait – that flicker of recognition that just passed through your mind – were you thinking PI (the irrational, intriguing marvel number) or PIE (the delicious, versatile comfort treat)?
Either way, you are not alone.
Over 20% of Americans are searching for PIE this National Pi Day 2019.
Last year, we had written about how marketers are responding to the growing interest in the celebration of Pi and how the increase in searches around "national pi day" and "pi day deals" are driving more pi-themed promotions from various brands.
The trend certainly continues this year – we have observed a whopping 39% year-on-year rise in "pi day" related searches on Google in 2019. From NASA's "Pi In The Sky Challenge" to White Castle's $3.14 meal deals and the innumerable interpretations in pizza & pie offers up for grabs today, brands seem to be having fun with this unlikely math hit.
While as marketers, we are fascinated by the possibilities this opens up, as analysts we are programmed to look to data for answers, for patterns, for rationales and for emotional quotients that drive search trends. This year, we took a step back to try to understand what makes this day click – is it our love of infamous numbers or it is our love of food?
What are Americans really looking for when they are searching for Pi Day – are they thinking Pi or Pie?
National Pie Day is celebrated across the U.S. on January 23rd. March 14th (3/14 in MM/DD format) is celebrated as National Pi Day every year. Curiously enough, it is also Albert Einstein's birthday. Nevertheless, year after year, we have seen searches about PIE DAY peaking in March. Check out what Google Trends data shows us. Surprised?
Search trends data for "Pi Day" over the last 5 years on Google:
Search trends data for "Pie Day" over the last 5 years on Google:
Searches for "Pi day" related keywords have seen a 39% YOY increase in 2019. This increase has been more pronounced in people searching trying to gather information on
What Pi day is all about – ~ 43% YOY increase
Keywords displaying this intent include "pi day facts", "pi day celebrations", "pi day trivia", "pi day history" etc.
What to do on Pi Day – ~ 56% YOY increase
Keywords displaying this intent include "pi day activities", "pi day specials", "pi day deals" etc.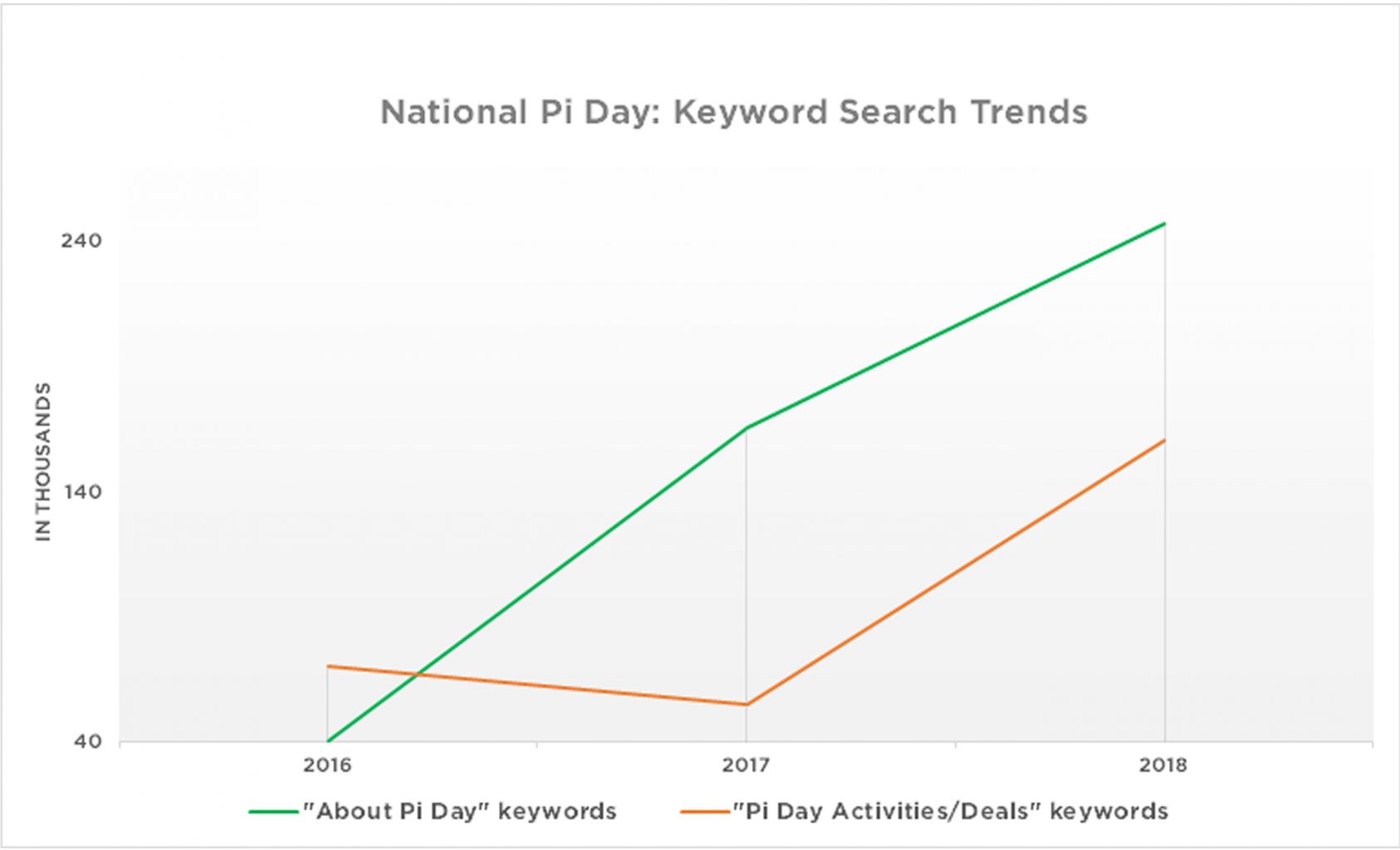 While it is heartening to see how much our interest in math and this math specific celebration has grown over past 5 years or so, our love for Pi's homophonic counterpart, the pie has driven much of the increasing commercial interest in this day.
Consumers have increasingly been searching for pie and Pie Day around this time as well.
Are Pi Day and Pie Day different – ~23% YOY increase
Keywords displaying this intent include searches for "march 14 pie day", "pie day math", pie day pi day" "pie or pi day" etc.
Are there pie related deals/freebies available – ~31% YOY increase
Keywords displaying this intent include "free PIE pi day", "pie day deals", "free pie day", "pizza pie day", "pie day specials march" etc.
The celebration of National Pi Day is a celebration of numbers and math. The inclusion of a different interpretation or commercialization in general hasn't taken away from this day in any way. My search data analysis tells me that it has only added to the interest and has helped increase awareness about Pi Day.
After all, which day doesn't get better with some pizza and pie, right?
Do you think America is falling in love with Pi Day? How are marketers are creatively taking advantage of this new trend? Tell us here.