Google's parent company, Alphabet (GOOG), announced its quarterly earnings earlier this month, missing street expectations by slight margins and bringing in $40.5 billion. While Google missed the analyst estimated earnings per share, other metrics like revenue, TAC and monetization metrics were in line with expectations.
Continuing the trends we saw with Google in Q2, strong results in certain Alphabet business lines—search advertising on mobile, advertising on YouTube and business-to-business cloud services—led to a 22% year-over-year revenue growth for the technology giant. Revenues from Google owned-and-operated properties contributed $28.6 billion (19% Y-O-Y growth) while networks contributed $5.3 billion—flat to last quarter (8% Y-O-Y growth), with lesser dependency on network revenue.
Alphabet's revenue and profit ticked up from Q2 2019, in which the company reported $38.9 billion in revenues and $9.18 billion in net income.
"I am extremely pleased with the progress we made across the board in the third quarter, from our recent advancements in search and quantum computing to our strong revenue growth driven by mobile search, YouTube and Cloud," said Sundar Pichai (CEO, Google), commenting on the company's performance."We're focused on providing the most helpful services to our users and partners."
What do marketers need to know about the factors pushing Google's growth? What are some of the major trends we see evolving here?
Below is our analysis of Google's Q3 earnings from a performance advertising perspective.
Key Trends from Q3 2019: What Marketers Need to Know
Google's earnings report proves that the company's core businesses continue to attract both users and performance marketing dollars. Here are the trends we see evolving in Google's Q3 results that may affect performance marketing in the future.
1. CONTINUED INVESTMENT IN AI
Continued investment in AI has been a key focus for Google, and AI has continued to drive strong performance in Search.
This quarter, Google announced the rollout of "a new type of neural network-based technique for natural language processing" called BERT in Search. Sundar Pichai (CEO, Google) called this "the biggest leap in Search in the past five years".
BERT helps Google develop a better understanding of long-phrase queries (and the intent behind them) to better mimic the way humans would interpret the same complex queries. With a better understanding of intent, both organic and paid results will improve, and so will the SERP experience.
For an in-depth understanding of BERT, its potential implications and our assessment of how Banking & Financial Services enterprises can evolve in response, read our insights here.
POTENTIAL IMPACT:
As BERT rolls out widely, we expect to see significant impact on SERP results—organic more immediately than the paid search results. BERT is aimed at improving the relevancy of results, and performance marketers should expect to see a resultant uptick in the quality of traffic coming to their sites, both via organic and paid search, especially as users with
long-phrase queries are directed to results that are more relevant to their intent.
2. SEARCH MONETIZATION
Google's revenue growth was driven by growth in volume: both in paid clicks on Google properties (+18%) and impressions on Google's display network (+12%).
On a sequential basis, click volume has slowed compared to Q2, and the cost-per-clicks (CPCs) have risen. At the same time, the value of each click/impression is decelerating: with cost-per-click (CPC) on Google properties down by 2% year-over-year and cost-per-thousand-impressions (CPM) on the display network down by 3% year-over-year.
Some key trends in search monetization metrics are highlighted below: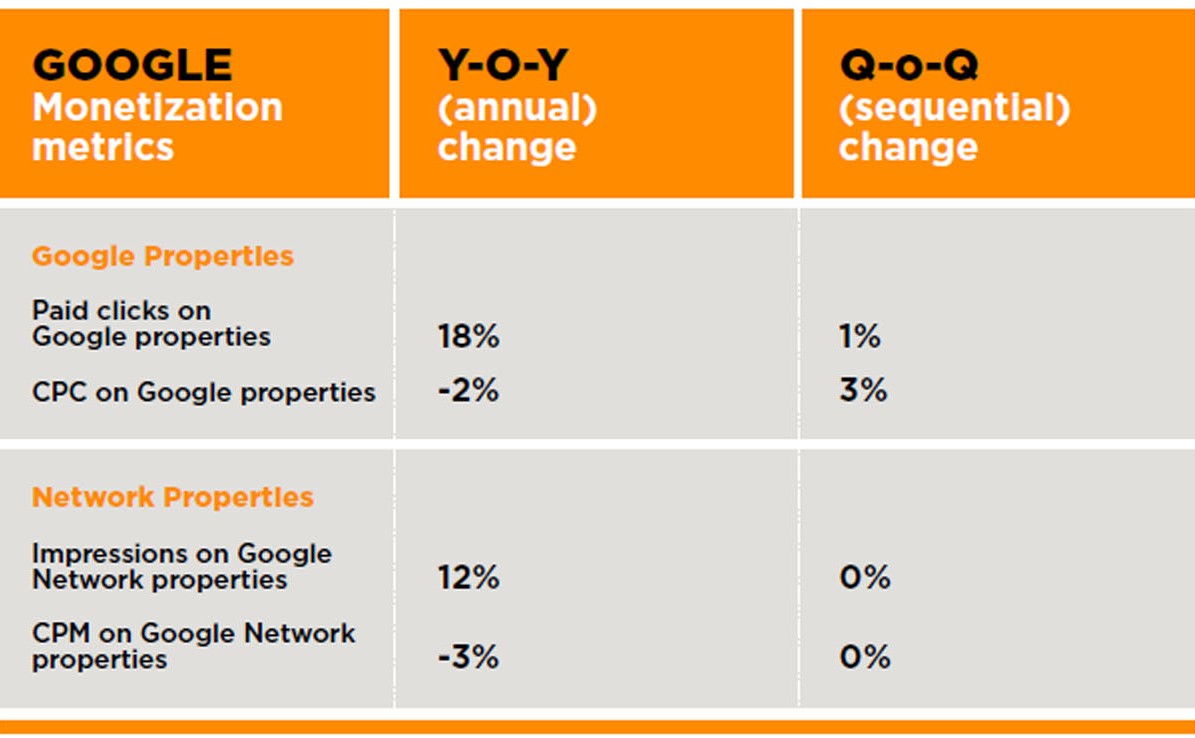 POTENTIAL IMPACT:
This is indicative of trends in prior years, where we have seen the rise of CPCs through the back half of the year. Performance advertisers would have seen a gradual increase in CPC in the head terms, which will continue through Q4 as key auctions heat up.
3. DESKTOP SEARCH STILL RELEVANT
Google acknowledges the importance of the desktop form factor and the importance of desktop search in this quarter's earnings, describing it as "a solid contributor to revenue growth."
While Google has moved to a mobile-first index and as the volume of queries has tipped over from desktop to mobile (with 57% of queries arising from mobile), there is still an important place that desktop occupies in the search ecosystem.
POTENTIAL IMPACT:
Performance marketers should look at the user journey, audience behavior and site experience to determine how best to provide an integrated experience in both desktop as well as mobile browsers.
4. GETTING READY FOR THE HOLIDAY SEASON
Google spoke about a few of the emerging solutions to improve the shopping experience. As stated in our last report, Augmented Reality (AR) has significant potential to improve online shopping experiences. Additionally, Google's Cloud solutions offer personalized shopping experiences for users.
These factors together have led to more robust e-commerce solutions from Google. Google also shared insights into new products and tools for flight, transit and hotel reservations.
POTENTIAL IMPACT:
Given the onset of the holiday season, the emerging solutions in the e-commerce space, as well as the new tools in the adjacent verticals relevant to the holiday season, offer varied opportunities for performance marketers.
5. AUTOMATION IN ADVERTISING
Google's advertising revenues hit $33.92 billion in Q3 2019.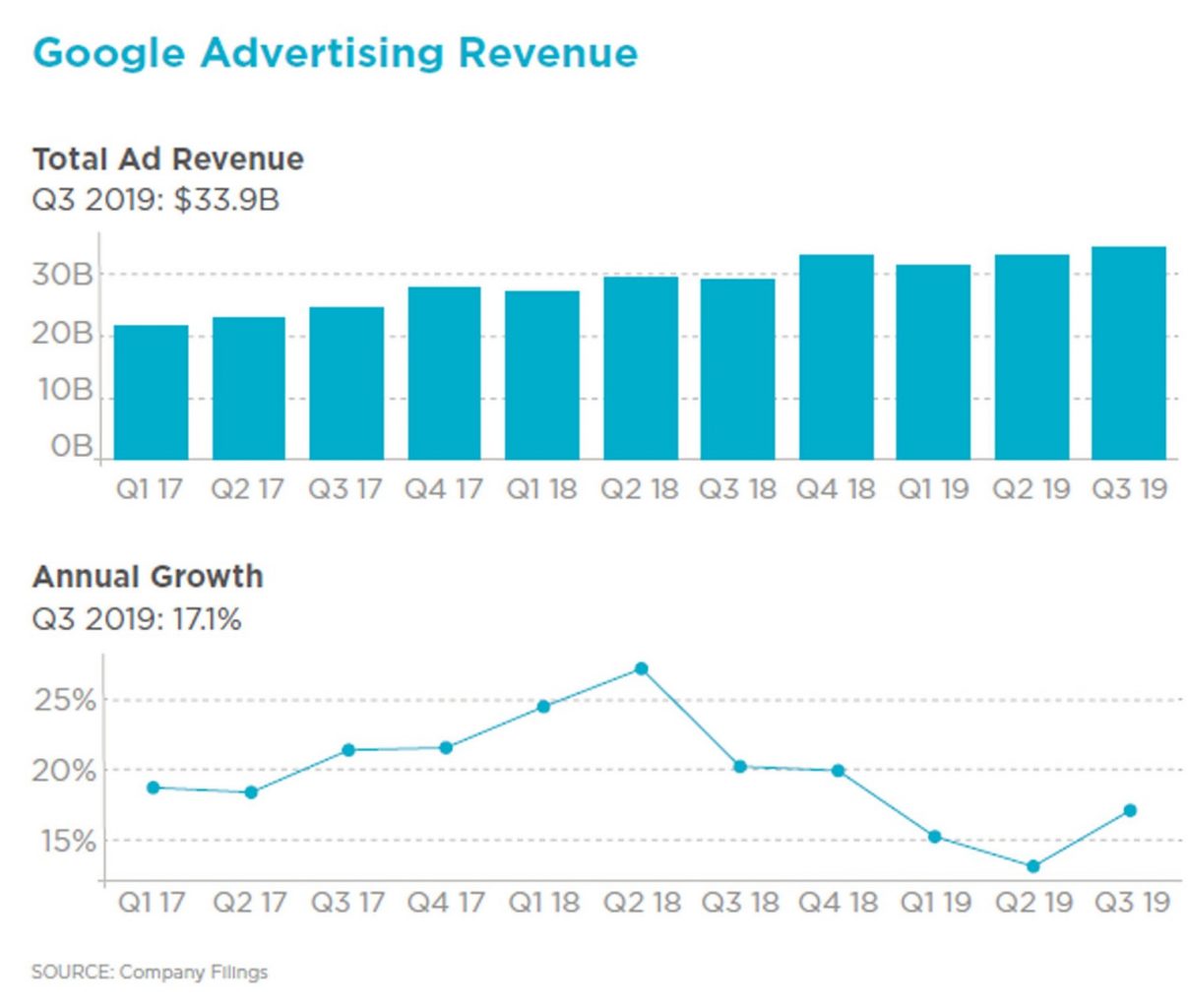 Google has continued to leverage machine learning to help advertisers build their ad campaigns. Machine learning-powered tools like auto-bidding are making significant progress, with 50% of the current search campaign spends running through full auto-bidding.
Additionally, as per Google, more than a million advertisers use Responsive Search Ads, which is an ad format Google launched a year ago that uses "machine learning to create the right ad for each search query."
While Search has been a focus in the automation journey, Google has made quite a lot of progress on YouTube with respect to automation.
A few of the offerings shared by Google in this quarter are:
Upload multiple video ads into a single campaign using the video reach campaigns.
Serve the most efficient combination of ads to reach audiences at scale.
Include new inventory in App campaigns to include YouTube Search, Display video ads and the Discover Feed.
Reach audiences through YouTube app on connected TV.
POTENTIAL IMPACT:
As performance marketers look towards finding "efficient reach", automation has given significant impetus towards efficiency, for example, via automated bidding. It is prudent, however, for performance marketers to exercise caution here and ensure adequate guard rails as you move towards automation.
In our experience, we have seen too many instances where a lack of adequate understanding of automation has led to "money being left on the table" by both agencies and marketers.
The Final Word
Google's growth continues to be powered by its focus on engaging its users and subsequently, attracting more advertisers. As exemplified by BERT, Google continues to invest heavily in technology advancements that have far-reaching applications and impact, even beyond Search, and we foresee the company's AI-powered solutions gaining more significance in its arsenal and contributing heavily towards growth.
Q3's growth in search revenue was driven by an increase in clicks, implying users still see Google as a tool for finding information across all aspects of their journey (through mobile, Maps, Assistant and YouTube).
For performance marketers, it is exciting to have new (and seasonal) products and features being rolled out, ripe with opportunities that can be tapped into as we approach the holiday season and the new year.
Reach out to #TeamiQuanti today to start a conversation about bringing your performance marketing goals to fruition.