Presented below is our analysis of Google's Q4 2019 earnings from a performance advertising perspective. What are some of the major trends we see evolving here? What do marketers need to know about the factors pushing Google's growth? In January 2020, Google's parent company, Alphabet (GOOG) became the fourth U.S. company in history to hit a trillion-dollar market capitalization. This milestone follows hot on the heels of Sundar Pichai, previously the CEO of Google, taking over the reins from founders Larry Page and Sergey Brin as the CEO of Alphabet, Inc. in late December 2019. Alphabet announced its Q4 2019 results in early February 2020, posting strong results in certain business lines such as Search, YouTube and Google Cloud and bringing in a 17% Y-O-Y growth at $46.1 billion in revenues.
KEY TRENDS FROM Q4 2019: WHAT MARKETERS NEED TO KNOW
Continuing the trends we saw in Q3 2019, Google's total advertising revenues saw an uptick and hit $37.93 billion in Q4, compared to $33.91 billion in Q3 2019 and $32.63 billion in Q4 of last year.
Google broke YouTube and Cloud revenues for the first time to give color to their performance. YouTube advertising revenues were $4.7 billion, up 31% Y-O-Y, driven by growth in Direct Response and Brand advertising. Google Cloud revenues were $2.6 billion for the fourth quarter, up 53% Y-O-Y, driven by significant growth at GCP and ongoing strong growth at G Suite.
"Our investments in deep computer science, including artificial intelligence, ambient computing and cloud computing provide a strong base for continued growth and new opportunities across Alphabet."  
                                                                                                          – Sundar Pichai (CEO, Alphabet & Google)
What are some of the major trends we see evolving here? What do marketers need to know about the factors pushing Google's growth? Here is our analysis of Google's Q4 2019 earnings from a performance advertising perspective.
Advertising still makes up the vast majority of Alphabet's revenues. The advertising revenue growth reflects a strong ongoing momentum in mobile and desktop.
Google reported an 8% increase Y-O-Y in its network advertising revenues in Q4 2019, led by the growth in Google Ad Manager. But we see a definite favorable revenue mix shift from Network to Google Properties.
At $8.5 billion, the Total Traffic Acquisition Costs or TAC accounted for 22% of total advertising revenues in the fourth quarter, but the Total TAC as a percentage of Total Advertising Revenues was down Y-O-Y.
Here are a few trends we see evolving that may impact performance marketing in 2020.
1. SLOWDOWN IN SEARCH
From a Y-O-Y growth perspective, we have seen a slowdown in search advertising growth that is concerning.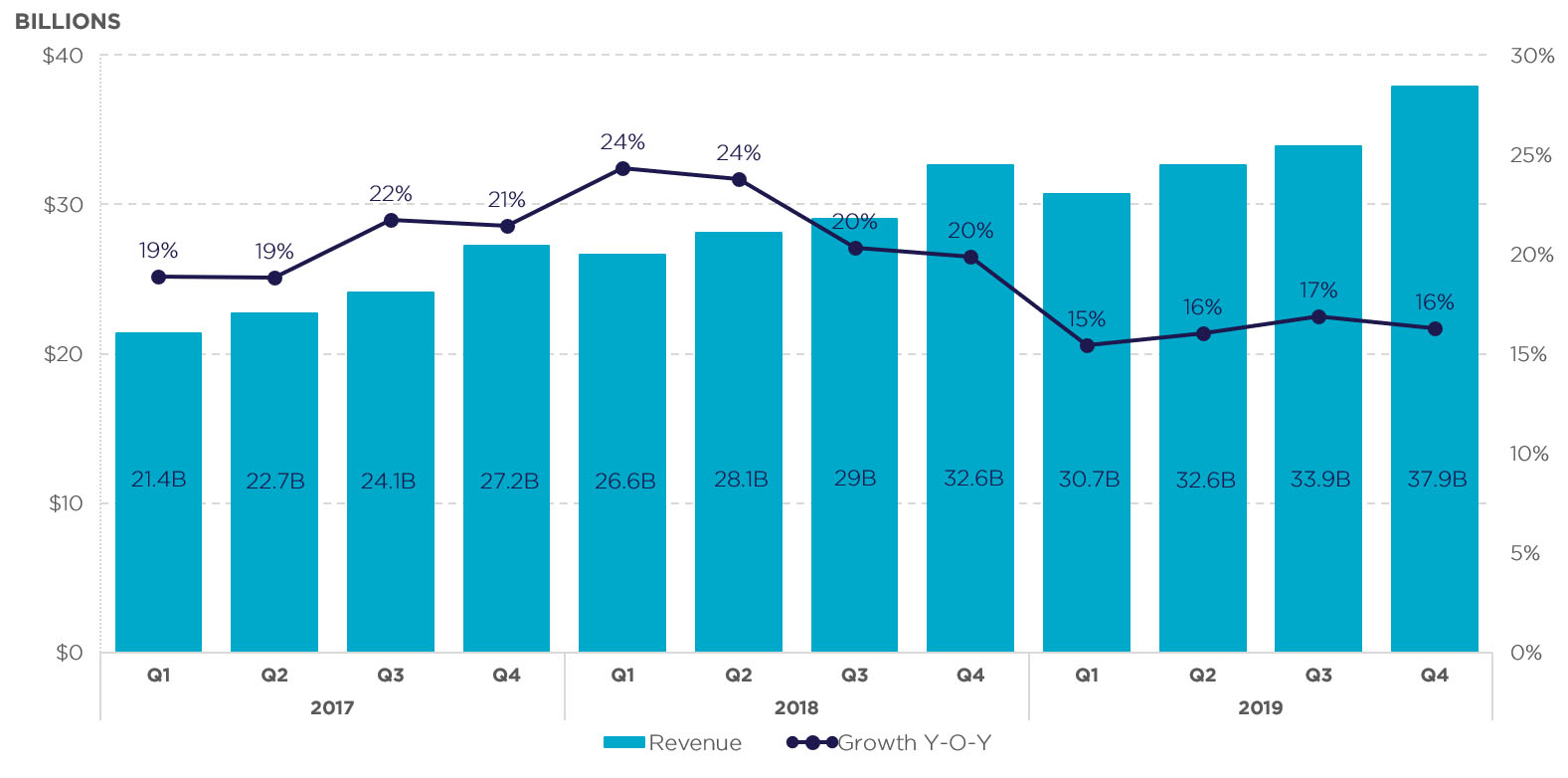 However, no auction metrics were provided in the earnings report similar to last quarter and it would be remiss to identify what is driving the slowdown without the auction metrics, especially when Sundar speaks of a stellar holiday season.
POTENTIAL IMPACT:
Look into your Google Ads account to identify how search/display networks are performing for you. Go through the basics of auction dynamics and identify whether volume (clicks) or value (CPC) is at play and implement strategies to combat it.
2. AUTOMATION IS NOT FOR EVERYONE
Over the last few quarters, we have seen a drive towards automation and a push by Google towards smart bidding using its tools. Pichai confirms that there is tremendous traction with advertisers leveraging the Smart bidding or auto bidding features and that by the close of 2019, half of the advertisers' Search spend is from automated bidding.
In principle, smart bidding is the right step for search marketers, however, we have seen multiple cases where the implementation is sub-optimal and is being swayed by the notion of "machine learning".
For smart bidding to work, Google depends on
Machine Learning from the data signals that Google gets over a period, and
The range & volume of such signals that Google feeds back into the system.
Even advanced machines today still work on the "Garbage In, Garbage Out" edict. Often, advertisers implement automation on ill-structured campaigns and expect magical results. If your implementation is sub-optimal, smart bidding can result in your performance ROI taking a hit.
Smart bidding needs to come with a manual, which it does not.
POTENTIAL IMPACT:
Implement automation only after you ensure that your campaign foundations are strongly laid out. At iQuanti, we have developed our own frameworks to ensure that Smart bidding works to enhance the overall Search performance.
We have developed a unique hybrid approach of managing bids that allows us to ensure that Google Smart bidding is generating stellar results for our clients. We rolled out this framework towards the beginning of 2019. We have been perfecting our 'BREAK IT TO MAKE IT' approach through continuous testing and have been seeing success with most of our enterprise clients.
3. AI IN SEARCH
We spoke in our last two Earnings analysis reports about innovation driving growth in Search.
Google estimates that BERT now impacts over 10% of all searches and has been rolled out in over 70 languages in Q4 2019. BERT has been hailed as "the single biggest advancement in Search in the last five years". BERT helps Google to develop a better understanding of long-phrase queries (and the intent behind them) to mimic the way humans do when they read it. With a better understanding of intent, both organic and paid queries will improve the SERP experience for the user.
For an in-depth understanding of BERT, its potential implications and our assessment of how Banking & Financial Services enterprises can evolve in response, read our insights here.
POTENTIAL IMPACT:
The impact of BERT will get stronger in 2020 as Google starts understanding the intent behind search queries more. There is a significant opportunity to monetize on the "long phrase" keywords by thinking about "real user intent" as opposed to "keywords" to increase efficiency.
4. E-COMMERCE GROWS STRONGER
We spoke earlier about some of the emerging solutions from Google to improve the shopping experience. Continuing the trend we saw in Q3 2019, the fourth quarter saw a strong uptick in both user and product inventory footprint on Google Shopping, especially over the holiday season.
Sundar Pichai stated that over the Black Friday and Cyber Monday weekend of 2019, Google saw "the largest number of daily shoppers on Google.com ever in our history".
The company reported a 4X uptick in the number of US merchants participating in the Shopping Actions program. Shopping was more closely integrated with YouTube this quarter with clear call-to-actions making it possible for advertisers to reach more audiences, and for users to easily buy products in YouTube's home feed and in search results.
POTENTIAL IMPACT:
Even with all the advancements in the area, there is a need for clear articulation of what the advertising objectives for each client is and identifying what channel/partner is best suited for your needs.
At iQuanti, we saw a significant increase in traffic in shopping this quarter, but also some level of cannibalization from search and organic traffic. Additionally, we have observed that automation did not work effectively for many, despite seasonal adjustments.
We are also seeing retailers make a move towards using a full stack of ads + cloud platform to improve on the efficacy of first-party data. At our end, there also has been an increase in discussions with clients and others in the industry about shifting traffic from Google to Amazon, especially for e-commerce players for all formats.
5. SAFETY & CONTENT MANAGEMENT
Providing the most trusted experience for users has been constantly highlighted as a key focus for Google. Q4 2019 saw a continued push for privacy, security and for keeping harmful content off all of Google's properties, especially over YouTube.
This continued commitment to keeping YouTube "safe for users, creators and advertisers" is definitely a positive move and it is heartening to see Google make strides in the right direction to promote authoritative content and remove misleading information about the upcoming 2020 elections.
POTENTIAL IMPACT:
Advertisers who have struggled with the quality of content should be glad to see these changes in the right direction, specifically in the programmatic space. We would love to hear any contrary thoughts or if you notice these efforts are not actively working.
6. GCP & MARTECH
Google Cloud ended 2019 at a more than $10 billion run rate, up 53% Y-O-Y, driven by significant growth in GCP (Google Cloud Platform).
Performance marketers today see a clear need for leveraging technology for marketing. Equally underwhelming, however, is the maturity of their MarTech stack and their ability to drive data-driven decisions. Our discussion with various players in the industry has highlighted this quandary. Google effectively bridges some of this gap using GCP and its offerings in marketing analytics and integration with programmatic advertising.
At iQuanti, we strongly echo Google's sentiment about the opportunity for integrated industry solutions applicable to marketing. Google has a leg up in this avenue, which will clearly be a differentiating factor, going forward.
POTENTIAL IMPACT:
Understanding your first-party data and how this plays into your marketing strategy is key. Assess your digital maturity objectively and see where you stack up against your peers. Both will be important as you look at integrating technology for effective performance marketing.
7. CCPA & THE COOKIE CRUMBLING
Throughout 2019, there has been a steady shift towards greater user privacy. With CCPA being rolled out in January 2020, 3rd party cookies crumbling across web browsers including Google Chrome and the US market continuing to adapt to GDPR, the trend shows no signs of slowing down.
Google, with its large share of the search market and its integrated ecosystem, will have to play a pivotal role here.
POTENTIAL IMPACT:
In 2020, we anticipate a meaningful shift in how advertisers identify audiences. A lot of our conversations with our enterprise clients have been focused on targeting. Given this level of focus, we believe it becomes critical for us to ensure that we approach gathering user insights and help target better and more precisely.
You can expect to see more on this from us very soon.
8. YOUTUBE FOR PERFORMANCE
YouTube ads generated a whopping $15.15 billion in revenue in 2019, with $4.72 billion in the fourth quarter alone.
In a conference call following the earnings, Alphabet CEO Sundar Pichai said that Google now has two million YouTube TV Paid subscribers, end-ing 2019 at a $3 billion annual run rate in YouTube Subscriptions and other non-ad revenue in the fourth quarter.
There are no additional details from Google in terms of revenue/performance of YouTube Direct Response. However, we see it working well. With Google letting brands insert a tailored call-to-action in a video ad, the format delivers a simple in-video buying experience.
POTENTIAL IMPACT:
As mentioned before, YouTube, while a small part of the revenue stream, is a good opportunity for performance advertisers, especially who are looking for alternative formats that are also cost-effective. We recommend marketers test it out with smaller budgets and compare ROIs with other formats to make investment decisions. Feel free to reach out to us with questions.
THE FINAL WORD
In 2020, Google will be focusing on four key things:
Creating the most helpful products for everyone and ensuring these (for example, Search, Maps, Assistant) continue to help people in their daily lives
Providing the most trusted experience for the users
Executing at scale and drawing strength from the synergy of shared technological approach across products and platforms
Creating sustainable value by optimizing the usage of computing resources and growing business opportunities in areas like YouTube, Play, hardware etc.
Stepping into 2020, we foresee exciting times ahead for marketers. With the advancements in AI and personalization and increasing focus on privacy and data security, digital performance marketing is moving closer to the users.
Have questions? Reach out to our Digital Solutions team today to start a conversation!