We are thrilled to welcome Google's former Head of Programmatic Account Strategy, Sreekant Lanka as our new Head of Paid Media at iQuanti. Mashal Thariani, our in-house Public Relations Manager, sat down with Sreekant for a chat – to understand his work, his plans & dreams at iQuanti.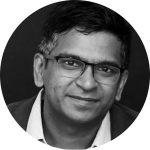 Sreekant Lanka (SVP, Paid Media)

Mashal: Before joining us, you worked at Google. Please tell us about your experience there.
Sreekant: I held a number of roles at Google, most recently the Head of Programmatic Account Strategy (PAS) at the company's Hyderabad location. As Head of PAS, I led a global team providing programmatic strategy and activation across a wide range of clients and verticals to drive client business results. Prior to that, I led a team that supported a number of large clients across North America in their sales division.
Mashal: Impressive! Where else have you worked at?
Sreekant: Before my time at Google, I worked at Accenture in their IT Strategy practice, where I helped financial services companies improve their operational efficiency of technology and deliver value from their IT investments. One of my favorite projects was modeling impact and value for a cross-agency technology program for the City of New York, which helped identify investment opportunities for the agency. I have also served in various advisor roles for startups in India to assist in their marketing strategy.
Mashal: We are so thrilled to have you here. What excited you the most about joining iQuanti?
Sreekant: iQuanti's commitment to data-driven insights and leadership in digital marketing were highly appealing to me. I was also intrigued about the idea of building up our paid media offerings and working with the talented members of the iQuanti team in order to make this happen.
Mashal:  Let's talk a bit about what your role would be at iQuanti as the Head of Paid Media. What do you hope to bring to the paid media practice here at iQuanti?

Sreekant: In my new role, I will look to enhance iQuanti's paid channel solutions and ensure that our clients get the most from their digital spend. I will also oversee our channel SMEs, solution specialists, paid media campaign operations and all paid products, including social, programmatic and search.
Having spent over 20 years in the digital advertising industry, I hope to bring my learnings and experience in the paid media space to come up with a more comprehensive story for iQuanti. I want to make iQuanti the one-stop destination for marketing, whether it be SEO, paid or social. With our focus on data and analytics, we offer a unique perspective in the industry by going beyond the monetary aspect and examining the nuances of marketing. By taking this approach, iQuanti will become the leading player in the paid media and become the world's digital marketing department.
Mashal: Where would you like to see iQuanti in paid media marketing space, say 6 months or a year from now?

Sreekant: iQuanti has a strong offering in the enterprise SEO space, with our product offerings and unique tools. In the next few weeks, I am working with the teams to develop a roadmap for the next few quarters. I envision a transformation of our offerings in the paid practice, leveraging the learnings/expertise in SEO, with a customer first approach.
Mashal: Lived and worked across the globe. Educated in India & the U.S. You are a truly global citizen! How did your journey start?

Sreekant: My career started in the financial services industry in the technology space. It so happens that my first job was less than a mile away from the iQuanti Jersey City office. Since then, I have worked in strategy, finance, and operations, with an underpinning of data/insights across multiple geographies. I am excited about being here right now and the prospect of looking at data and insights to solve for marketing challenges.
Mashal: I've listened to your TEDx talk on Keeping Pace with Technology. It was really fascinating.

Sreekant: Yes, I have served as a TEDx speaker and a panelist on Talks at Google. Additionally, I am a visiting faculty member with leading business schools in India, where I've been engaging with the students teaching 'digital marketing' for the past few years. I cherish any opportunity to mentor and mould young minds.
Mashal: Outside of work, what are your other interests?

Sreekant: As mentioned, I teach at business schools and mentor entrepreneurs in their go-to-market strategy. In the remaining little free time I have, I read voraciously (mostly biographies and philosophy), enjoy distance running (I'll be participating in the Marine Corps Marathon this fall) and traveling with my family.
Mashal: A marathoner to lead us in our race! It is great to have you on board, Sreekant! Once again, welcome to Team iQuanti!

Sreekant: Thank you, it is great to be here!
Sreekant Lanka joined #TeamiQuanti on 14th May 2019 as SVP, Paid Media. Click here for our press announcement.