Instagram Stories are a powerful tool for, yes, storytelling. They're also emerging as a compelling paid channel within enterprise digital marketing.
Stories produce high levels of user engagement and are helping to drive steady growth in time spent on the broader Instagram platform. According to eMarketer, daily time spent on Instagram has risen every year since 2016.
This growth is hard to ignore, and it's pushing Stories into more social media strategy conversations. Ninety-eight percent of advertisers plan to continue or begin using Instagram stories within the coming year.
What is it that users like about Stories – and how should you think about Instagram stories as part of a marketing channel?
Here's how Instagram Stories are emerging as a valuable part of brands' digital marketing toolkit.
Why users love Instagram Stories
Stories copied one of Snapchat's most-loved features: the ability to stitch pictures or short videos together into mini-narratives. Once upon a time, Instagram was just an infinitely scrolling feed of images and videos. But Stories expanded users' ability to communicate visually on the platform.
Quite literally, Stories put users' (or advertisers') content front and center. The Instagram feed is still comprised of square, horizontal, or vertical images or videos, each of which leaves significant whitespace on the screen real estate. Stories, by contrast, create a full-screen experience.
Stories are not only more immersive but also more exciting. They are highly ephemeral in nature, lasting only 24 hours before disappearing forever. That adds a sense of urgency to any new Story.
The feature is so compelling to Instagram's user base that upon its introduction in August 2017, Snapchat's daily active user count plummeted. Instagram, meanwhile, has posted big gains in DAUs and time-in-app.
What makes Stories so valuable to brands
The primary reason for Stories' value as an enterprise digital marketing channel is the engagement they drive with a high-intent audience.
As mentioned earlier, one of the primary benefits Stories format affords brands is the ability to, well, tell stories. And while Instagram also offers opportunities to post sponsored story content, Stories are such a compelling format that even brands' organic Stories efforts are getting noticed. One-third of the most viewed Story accounts are businesses.
Stories present an opportunity for brands to engage with users in a semi-unpolished or raw way. Oftentimes, this can come in the format of behind-the scenes content or republished user testimonials. In the never-ending quest for authenticity, Stories are an easy way for brands to get a leg-up on the competition.
Look at this example of how hospitality brand Airbnb has used Stories to highlight and tell the 'story' of one of their properties.

This approach not only helps viewers visually and emotionally connect with a property and its owner, but also captures the essence of what Airbnb does – "providing healthy travel that is local, authentic, diverse, inclusive and sustainable." And it does it better than any single image or article may have been able to do – simply because the user takes the story forward and can actively moves through the story to learn more at her/his own pace.
There's a definite added benefit to brands building an organic following on Instagram: After reaching the 10,000-follower mark, an account gains access to the "swipe up" feature that allows links to be inserted in posts. With this feature enabled, advertisers can encourage clicks away from the Instagram platform and onto their own websites.
Here is an excellent example of how NYU uses this feature – users can stop and click on the link available on any particular story slide to gain quick access to the recommended podcast.

Instagram is careful not to overfill users' Stories with ads. Paid placements, which can be a static image or a video of between 3 and 15 seconds, show up after every 4 organic placements. The goal is to integrate them seamlessly into Stories so as not to disrupt the user experience.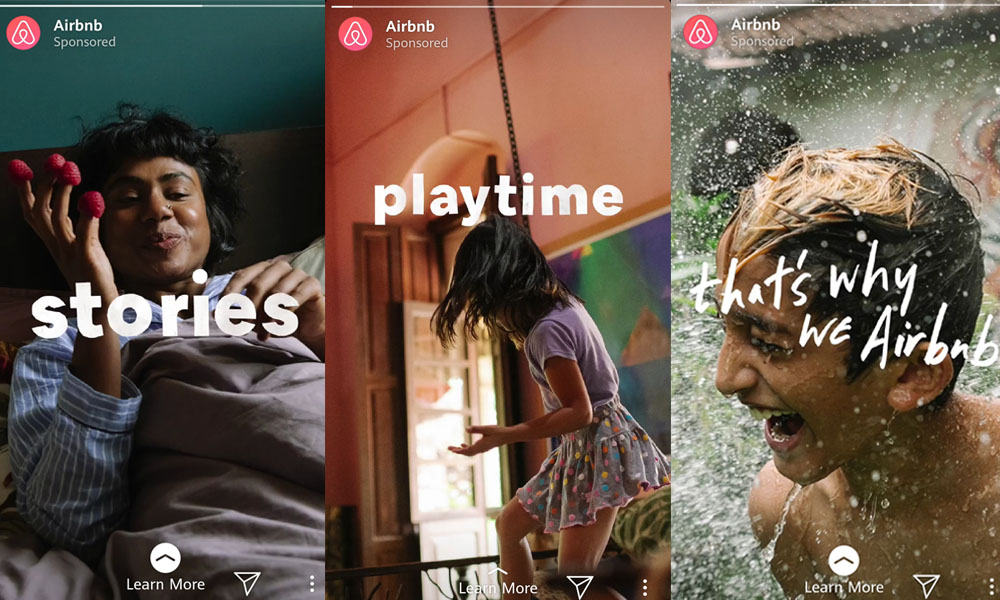 While click-through rates (CTRs) are lower than on desktop, we typically see good performance metrics on Instagram Story ads, due to the highly engaged nature of the audience. That's especially true when the ads link out to landing pages that are hyper-relevant to the content of the ad.
How to get started with Instagram Stories
Close coordination between Story ads and the pages they point to is one key element of Instagram Stories success. Others include a keen focus on your audience and continuously compelling content.
Sync your ads and your website/microsite
In PPC, programmatic display and social, thematically tying ads to their linked content is an absolute necessity. Google even "scores" paid search ads on how closely the ad copy matches what's on the landing page, using this quality score to price inventory for its advertisers.
Consider targeting a niche audience
Instagram users tend to be very engaged with the content they like. Think of your Instagram stories audience almost as your "superfans" – the people who are REALLY eager to see what you're posting. Build your advertising program around this target persona to maximize performance.
Win with content
As noted, advertisers with more than 10,000 followers gain access to a powerful feature: swipe-up to click. To get to this follower level and continue growing your follower count, you need to build a cadence of great organic content, both static images and videos.
How would you guage if your Story strategy (organic and paid) is working for you? Read my thoughts on 3 key data points that can help you determine the efficacy of your paid social media efforts here.
The Final Word
Instagram Stories offer a highly immersive social experience to users – a winning formula for engagement that's attracting the attention of more and more advertisers. As part of a well-mapped social media strategy, Stories can deliver strong performance as an enterprise digital marketing channel.
Read more about iQuanti's Display & Paid media services here.