The right to childhood for children from marginalized backgrounds is threatened on several fronts, including inadequate nutrition and healthcare, lack of proper hygiene and sanitation, child abuse, child marriages and child labour, and lack of equitable opportunities to education. 
The last factor, that is education and holistic development, can make a world of difference in children from marginalized backgrounds to develop capabilities to create a better, brighter and dignified future for themselves. Some challenges with providing this are that even with access to schools, lack of proper infrastructure, learning deficits, learning disabilities, cultural barriers and familial conditions lead to poor learning outcomes and ultimately dropouts. Equitable opportunities to holistic child development and inclusive education are paramount to breaking the cycle of poverty and deprivation.
iQuanti Gives + Gubbachi
iQuanti strongly believes that continuous learning and education are pre-requisites to growth. Led by this belief, iQuanti has partnered with Gubbachi, a non-governmental organization working with government schools across India towards enabling holistic development of children from socio-economically and culturally disadvantaged backgrounds.
iQuanti sponsors one of the schools in Bengaluru supported by Gubbachi, to help them take forward the mission of creating positive and meaningful learning experiences for children of migrant workers and other underserved communities.
Apart from sponsoring a school and augmenting Gubbachi's mission, iQuanti supports various other initiatives of the organization too. iEngage, a team at iQuanti focusing on initiatives around employee engagement and driving a positive organizational culture, spearheaded this initiative.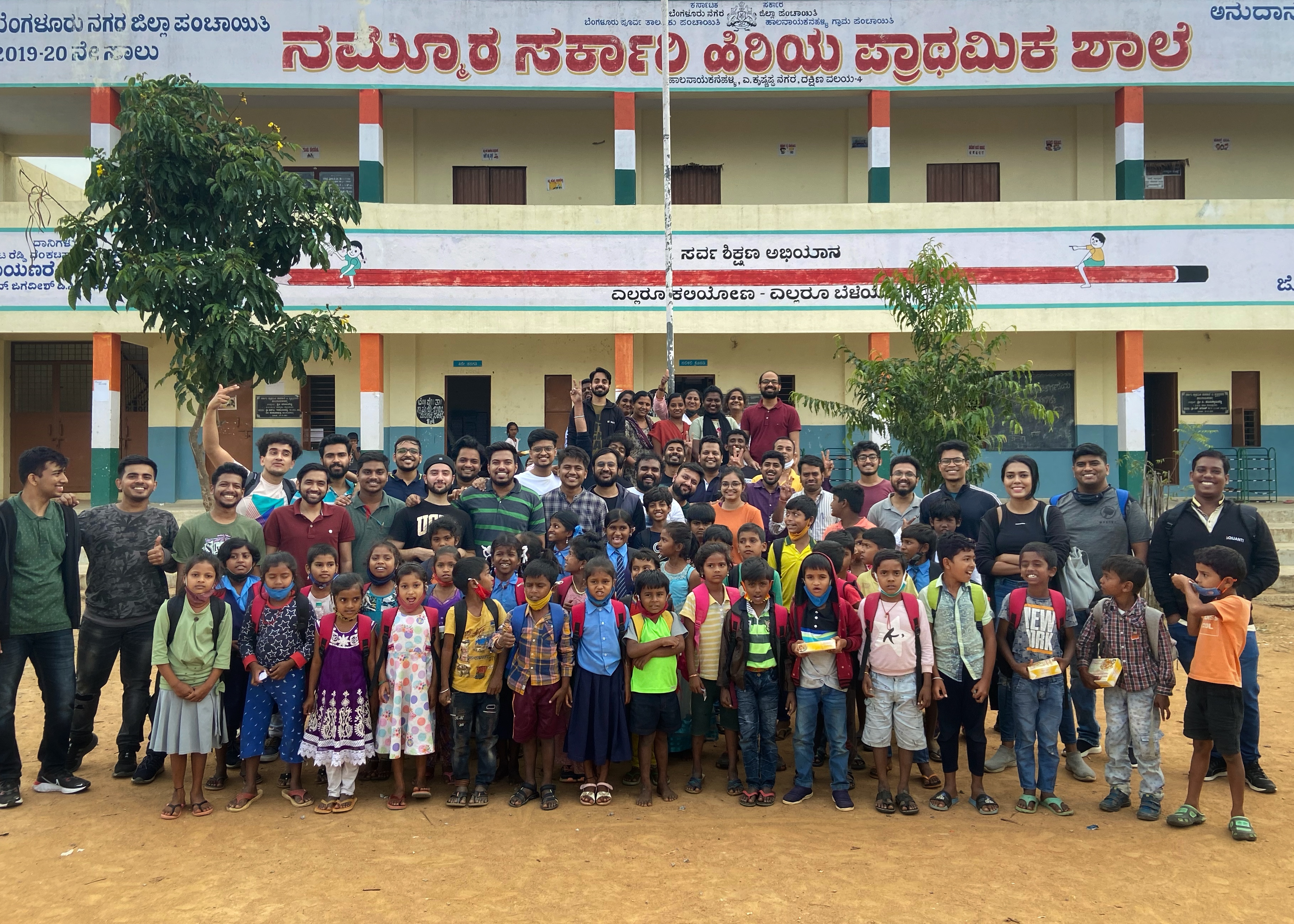 Recent iQuanti Volunteer Activity with Gubbachi
Sports is an effective way to keep young children happy and healthy – physically, mentally and emotionally. It helps build their social skills such as interpersonal relationships, communication, teamwork and thinking skills among others. With this in mind, the school was planning to introduce sports activities more formally to the kids.
A group of 30 volunteers from iQuanti arranged for the necessary sports equipment and gathered at the school to set up an open volleyball and football field at the school. From levelling out the ground to putting up goalposts and making football field-lines, the volunteers did it all. They interacted and engaged with the kids through the activities and the day culminated in football and volleyball games and other fun drills with the children.
This is iQuanti's third year of partnership with Gubbachi and it has been an incredibly rewarding relationship thus far. In the years to come, iQuanti hopes to engage in more voluntary work and contribute further towards the betterment of children, facilitating a brighter, more dignified future.
Given the pandemic situation, we could not visit the school to meet the children and the Gubbachi partners over the past couple of years. Now, that things are slowly getting back to normal, this fun event was organized at the school. It was incredibly heart-warming to see how happy and excited the kids were, and it was a ton of fun to conduct the sports drills for them. We look forward to going back and checking out their footballs skills and maybe watch them play a game
About Gubbachi
Gubbachi, founded in 2015 by a team of six visionary individuals, is a not-for-profit organization that is working to create a world where every child develops their potential to lead a dignified life. In particular, Gubbachi Learning Community works to bridge the learning competencies of children of migrant labourers in Bengaluru.
Why?
Forced by debt, drought and distress, migrant workers move into fast-growing cities like Bengaluru to make a livelihood. The conditions in such cities are often harsh and their children bear the brunt. Owing to reasons ranging from lack of physical access to schools to familial burdens (taking care of younger siblings, working to make ends meet, etc.) and cultural barriers, children of migrant workers are mostly out of school. This only perpetuates the cycle of poverty for migrant families.
To learn more about their work, visit https://www.gubbachi.org.in/