Facebook Inc. Q4 2019 Earnings Report Analysis: Impact & Implications for Enterprise Social Marketers
Facebook has had a tumultuous couple of years. Surprisingly, even amidst a parade of serious privacy scandals, litigations and hefty legal settlements, Facebook has managed to consistently outperform market expectations and comfortably dominate the digital advertising landscape year after year.
Facebook announced its Q4 2019 earnings earlier this month. The social giant reported a 25% growth Y-O-Y in quarterly revenues, a 9% Y-O-Y increase Daily Active Users (DAUs), and an overall 31% increase in its ad impressions in 2019.
98% of Facebook's Q4 2019 revenues came from advertising.
At iQuanti, we took a deep-dive into Facebook's quarterly earnings reports over the last year to identify the key features and emerging trends that would help enterprise social marketers understand the present Facebook landscape, plan for the continued expansion of its products, and make smart decisions about how and where they are spending their marketing budgets.
FACEBOOK CONTINUES TO OUTPERFORM YEAR-OVER-YEAR
Facebook COO Sheryl Sandberg announced that the company now has more than 8 million advertisers, up from 7 million in October 2019. It is notable that over $20 billion of Facebook's Q4 2019 revenues came from advertising, up 20% Y-O-Y.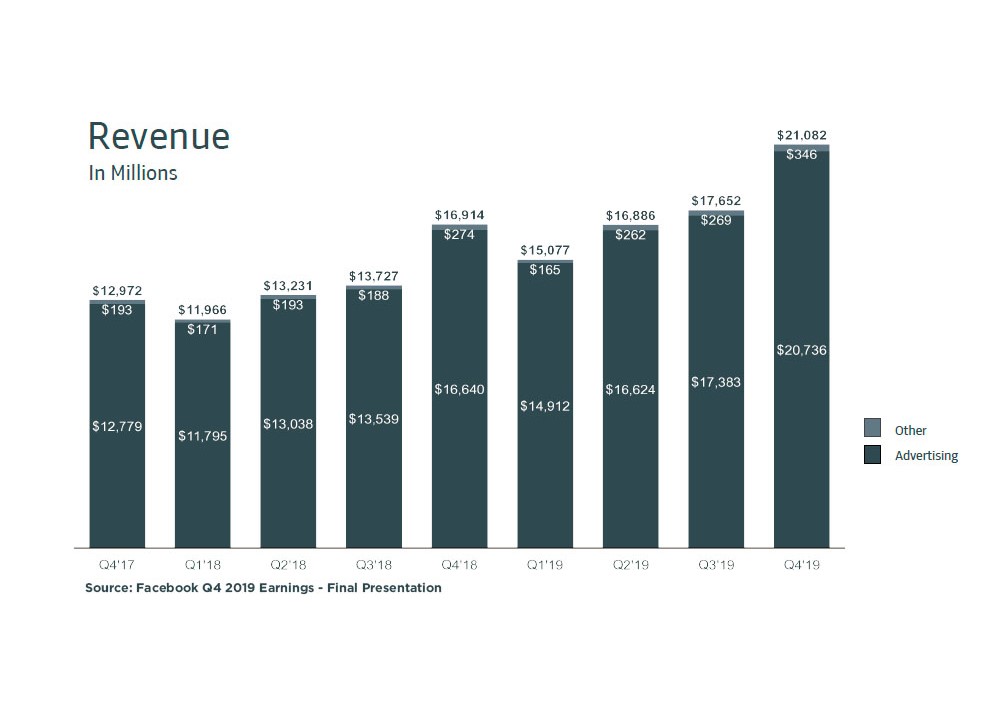 "We had a good quarter and a strong end to the year as our community and business continue to grow," Facebook CEO Mark Zuckerberg said in a statement. "We remain focused on building services that help people stay connected to those they care about."
According to Facebook, its Family Daily Active People (DAP) hit 2.26 billion in Q4 2019.

Let's take a moment to understand this number in context.
United States Census Bureau reports that as of 1st January 2020, the world population is 7.6 billion people. Of these, roughly 29% people across the globe are registered and logged-in users of Facebook's 'Family' of products (Facebook, Instagram, Messenger, and/or WhatsApp) who visited at least one of these Family products through a mobile device application or using a web or mobile browser on a given day.
Herein lies Facebook's power – the power to extend an advertiser's reach and achieve scale impossible using any other platform currently in existence.
It is notable that in 2019, Facebook's major growth came from APAC and ROW, though the platform saw an increase of almost 1 million users in the U.S. and Canada regions after almost a year of slow- or no-growth.
It is prudent to state here that Facebook has built and retained its extensive reach and dominance in the digital ads space globally by harnessing the power of emerging technologies – social media, mobile, cloud and big data technology – collectively, like never before. Facebook's ad revenue growth and user growth are a testament to the company's continued focus on its primary suite of ad products, and secondary/emerging products like VR and Oculus.
Here are some of the key features and emerging trends we see evolving in this space.
1. INSTAGRAM IS CARRYING THE GROWTH
Instagram is typically the platform of choice for millennials, to Facebook's Gen X and Boomer loyalists; more than half of its global usership is adults younger than 34 years old. This statistic is also growing over time with Instagram maintaining its 1 billion+ user base over the course of the year as the percentage of U.S. adults who use the platform rose from 35% to 37%.
Analysts are of the opinion that Facebook has introduced the new stat – Family Average Revenue Per Person, to use Instagram's growing ad revenue to add color to the company's growth story.
POTENTIAL IMPACT:
The strength of Instagram is not only in the number of its users. The frequency and quality of users is high on Instagram as well. Note that:
As of February 2019, the platform overtook Snapchat as the second (to Facebook) most logged-in social media site on a daily basis.
The average time spent rivals that of its parent company. eMarketer predicts that Instagram users will spend an average of 28 minutes per day on the platform in 2020.
The average time spent on the platform can only be expected to grow further as more and more users adopt IGTV, the platform's pseudo-answer to video giant YouTube.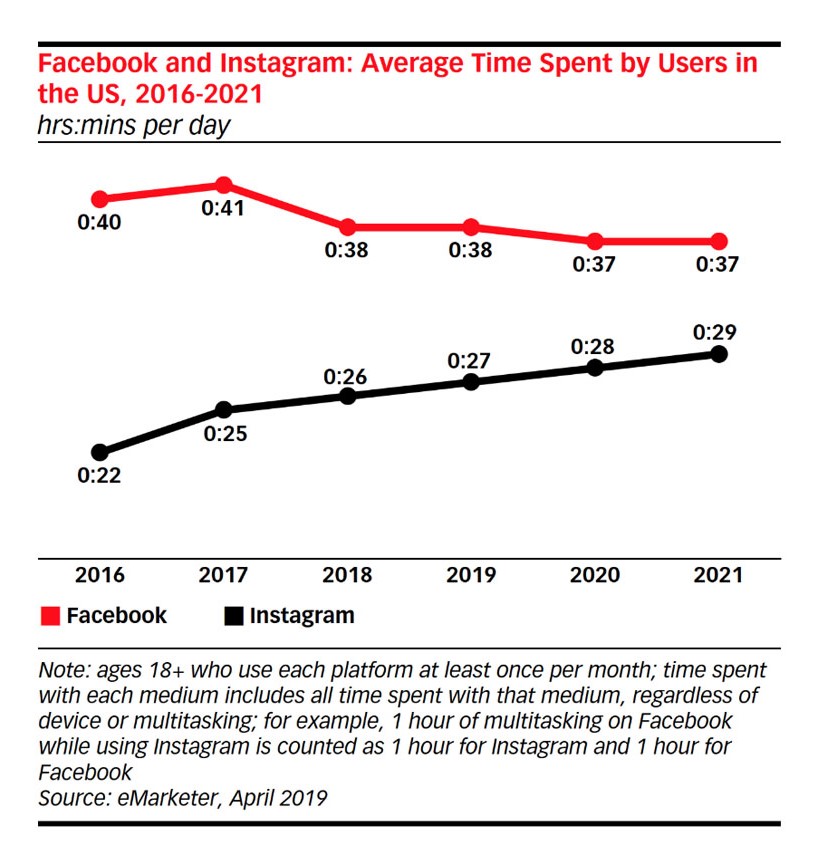 The potential opportunities for boosting brand visibility and engagement that Instagram Stories, IGTV and most recently, Instagram Explore Ads, offer marketers cannot (and should not) be ignored.
2. STORIES LEAD THE PACK IN AD FORMATS
"Facebook is in the business of enabling advertisers to reach users in the places they already are."
– Sheryl Sandberg (COO, Facebook)
Over the last couple of year, "Stories" have emerged as a compelling paid channel within enterprise digital marketing for highly engaged users, particularly on Instagram. Facebook has responded to this format's widespread reach and engagement by making it extremely easy for advertisers to leverage these placements.
To that end, Facebook has rolled out new features for stories to drive advertisers to more thoroughly bake the placement into their marketing plan
Customizable templates to make ad creation easier
Automatic translation of feed ads to stories
Click-to-Messenger feature in stories ads
Interactive features, such as polls, in stories.
According to Facebook, there has been fast adoption of stories across Facebook, Instagram and Messenger, with "more than half of Facebook's 7 million advertisers now using Story Ads", according to the latest stats shared at CES 2020. They have also incentivized the format with reduced costs to play.
Facebook is interested in keeping stories a fun and engaging product, as evidenced by the inclusion of polls and other interactive elements in the ad that had previously only been available on the organic side. While the placement doesn't monetize as well as news feed, growth over the long-term definitely shows positive trends.
POTENTIAL IMPACT:
Engagement is an important performance indicator for most companies, allowing them to gauge an audience's affinity or care for a product.
With the inclusion of interactive ads and customers' continuous search for authenticity, enterprise marketers can expect to use the heightened investment in Stories to build stronger connections with their target audiences in a space that's still relatively new on the market.
Beyond this, with the additional creative tools lowering the barrier to entry, advertisers with smaller creative and marketing budgets will more easily be able to test and learn if the placement works for their target consumer with less additional work and while the costs of advertising are discounted.
Read my thoughts on how Instagram Stories are emerging as a valuable part of brands' digital marketing toolkit here.

3. INCREASING INVESTMENTS TOWARDS INNOVATIVE PRODUCTS
Aside from its suite of ad products, Facebook has been steadily investing in additional avenues of driving user engagement with the platform.
Over the past two quarters, we have seen many developments of interest outside the realm of core offerings.
3.1. FACEBOOK NEWS
Facebook's latest, Facebook News is not to be confused with News Feed.
Facebook is interested in funding high-quality journalism in the wake of the internet's continued disruption of the industry.
While Facebook has positioned itself as apolitical in its dissemination of political and issue-related ads, it is in the early stages of creating a news aggregator of its own. It is keen on forming long term business partnerships with news publishers and creating a "virtuous cycle" whereby it can create a dedicated News tab. Facebook News aims to be an avenue whereby publishers can be paid for high-quality content that interested users can opt to view outside their traditional News Feed.
Facebook had purported to make an algorithmic change years ago to prioritize friends and family content within News Feed proper. Facebook News seems like a natural progression.
Expected product adoption is around 10-20%.
POTENTIAL IMPACT:
Much like the advent of Stories or Messenger, we can likely expect Facebook News to present another opportunity for advertisers to reach users where they are most engaged. For contextually relevant advertisers with lower sensitivity to news content, the initial rollout could reward early adopters with low CPMs and a test-and-learn opportunity.
Publishing organizations whose content leans very issue- or politics-heavy can also use the new feature as a dedicated playground to reach active instead of passive consumers of news, likely ratcheting up engagement, traffic, and conversion rates in the process.
3.2. OCULUS QUEST
Oculus is Facebook's answer to the growing VR and AR industry. Facebook has not traditionally been in the business of creating hardware or operating systems, but has stated that it will continue to fund research and development for the foreseeable future, as the VR headset is being shown a lot of love in the market.
Even with the challenges around slow greater VR/AR user adoption, the demand is strong. People bought almost $5 million in content on the Oculus Store on Christmas Day, which Zuckerberg called a milestone. He says Facebook's Spark AR platform is most used of its kind by developers, with hundreds of millions of people experiencing face filters built with it.
POTENTIAL IMPACT:
Facebook Oculus has heretofore been a standalone and individual product – but there are changes on the horizon to make it a more social product.
A chat feature is being introduced, in addition to features allowing for organizing and attending events happening in virtual reality. While neither of these are obvious areas of interest for marketers immediately, these features begin to position Oculus as the future of social interaction.
Enterprise marketers should start preparing for a future where virtual reality presence would be another effective brand touchpoint for their audience.
4. ADVANCEMENTS TOWARDS BUILDING A STRONG PAYMENTS BUSINESS
 Facebook is embarking on a quest to embed itself in multiple areas of a user's life. As it relates to commerce, there are two avenues by which they are seeking to do this:
Payments systems atop existing structures (i.e. Instagram shopping, WhatsApp and Facebook Pay) and
Libra, its cryptocurrency play.
4.1. FACEBOOK PAY & INSTAGRAM CHECKOUT
Facebook Pay is Facebook's attempt to simplify payments. Introduced in Q4 2019, it is Facebook's adaptation of features offered by products like Apple Pay and Android Pay, limited to businesses and users on Facebook's suite of apps.
It allows users to add their preferred payment method to the platform and transact in in-game purchases, event tickets, person to person payments, select Facebook pages and businesses, and on Facebook Marketplace. Facebook pay intends to reduce the friction between engagement and transaction, no longer requiring users to manually enter their payment information in order to make in-app purchases, donations, or peer-to-peer transactions.
There have also been some significant developments on the Instagram shopping front. What had heretofore been a strictly organic play where businesses can tag products from their product catalog in their Instagram posts has now been rolled out in an ad format.
In Q3 2019, Facebook began testing IG shopping ads. With an integrated Instagram checkout rolled out (initially in a limited capacity to retailers, and now in full), users can now be served sponsored posts with product tags, where they can click the listing and either be driven to its product description page to purchase on the business' mobile site, or add to cart and checkout directly within Instagram's own app.
POTENTIAL IMPACT:
With organic reach limited as it is, the Instagram shopping ad developments will serve to further reduce the lead time between product discovery and purchase.
As it stands, this will primarily be a benefit to retail-oriented businesses where the user will no longer have to perform additional steps to locate and purchase the products they see. With the addition of Facebook Pay, it will further simplify this process for retailers and users alike and has the potential to create a wave of social-only e-commerce businesses.
 4.2. LIBRA
Libra's value proposition, as it were, is to make micro-payments and remittances across borders faster and more affordable, creating a new infrastructure for financial services. Libra is an ongoing development and will probably face congressional pushback through all stages of its rollout.
At the time of writing, a bill had been introduced which would put Libra under the jurisdiction of U.S. Securities Law making room for substantial regulatory scrutiny of the product.
POTENTIAL IMPACT:
Libra is still an unknown quantity. The currency and network do not exist as yet, and limited information has been made available. Libra in conjunction with an integrated checkout could mean an advertiser in one geo is able to market to and convert users in another geo without either party thinking twice about potential roadblocks to purchase.
However, according to Forrester Analytics Consumer Technographics® Global Online Benchmark Survey (Part 2 – 2019), only 5% of US online adults say they would trust Facebook to provide digital payment services. We would be closely observing the space to study how Facebook's Payment features continue to evolve and get adopted and understand their potential impact for marketers.
5. PRIVACY, TRANSPARENCY AND OTHER CONSIDERATIONS
Facebook has made some strides to better protect users and their data and draw lines around the way users are targeted with regards to more sensitive products like housing and employment, however, there is still a long way to go.
In Q3 2019, Facebook reached a settlement with the Federal Trade Commission to make structural changes around user privacy. As part of this agreement, Facebook is investing billions of dollars in its safety and security initiatives, including the removal of fake accounts, bad actors, and bad content, ad transparency policies, and famously, its "clear history" tool.
The clear history tool has had a slow rollout but is now being tested in select European markets. Facebook intends to roll this out globally on a percentage basis, but claims it is too early to share adoption rates. It is worth noting that the clear off-Facebook activity tool does not stop tracking entirely, but it anonymizes one's data so they cannot be targeted by their browsing history.
In addition, Facebook has also made efforts towards putting a stop to how companies may use its ad targeting to discriminate against users. The company has reached an agreement with the National Fair Housing Alliance, the ACLY, the Communication Workers of America and others to limit the targeting options for ads in the housing, employment, and credit verticals.
POTENTIAL IMPACT:
Facebook's CFO David Wehner has warned investors and marketers to expect a deceleration in Y-O-Y total reported revenue growth rate in Q1 2020, as compared to the Q4 2019 growth rate.
Wehner attributed this expected slowdown in growth to "regulatory initiatives like GDPR and CCPA, mobile operating systems and browser providers like Apple and Google limiting access to ad targeting signals, and Facebook's own product changes like the new way to disconnect off-Facebook data from your account."
Facebook's reach extends far beyond its own website as there are an estimated 8.4 million websites with a Facebook tracking pixel of some sort embedded. The combination of GDPR, CCPA, restricted targeting for certain products, and the option for users to stop Facebook from using their off-Facebook activities for targeting will start hurting an advertiser's ability to monetize. It can also potentially affect the users' quality of personalized experience on the site.
THE FINAL WORD
In June 2019, Forrester analyst Jessica Liu argued that despite the number and extremity of Facebook Inc.'s scandals, they wouldn't doom the company in the short term. In her research report, she observed that the reason why these incidents have not brought down Facebook is "because unlike most companies that focus on only one relationship — the one with their revenue-generating customers — Facebook uniquely must focus on two — users as its product and advertisers as its customers." While it's true that companies are forced to change when customers stop using their products or services or when revenue declines dramatically (or both), in Facebook's case, Jessica notes that its two key groups will move too slowly to significantly impact its revenues in the short term.
Facebook's growth in 2019 is driven primarily by its improved focus on developing ad products that work for marketers and are compelling for users. With additional placement, formatting, and creative opportunities in the works and on the horizon, marketers have more opportunities to reach and engage users than ever before. For advertisers with an international presence, the continued optimizations in APAC and ROW should prove valuable as well.
With the initiatives around user data being phased in, marketers will have to keep a close eye on performance, set expectations with their stakeholders as early as possible, and adjust their goals and objectives as needed in the new landscape.
Have questions? Reach out to our Digital Solutions team today!