Facebook has introduced a new feature to users in some geographies: a "Clear History" tool that lets individuals unlink their web browsing activity from their Facebook account.
What does the Clear History tool mean for consumers, and will it make targeting and engagement more difficult for marketers? Here's our take.
What is the Facebook Clear History tool?
Facebook first introduced the idea of a clear history tool back in May 2018. At the company's F8 conference, Mark Zuckerberg announced that the Clear History Tool would be "a simple control to clear your browsing history on Facebook – what you've clicked on, websites you've visited and so on."
The Clear History tool will be available to Facebook users as a simple one-click settings option. If a user activates the tool, it won't stop Facebook from collecting data on their browsing history, but it will prevent Facebook from associating this data with their individual account.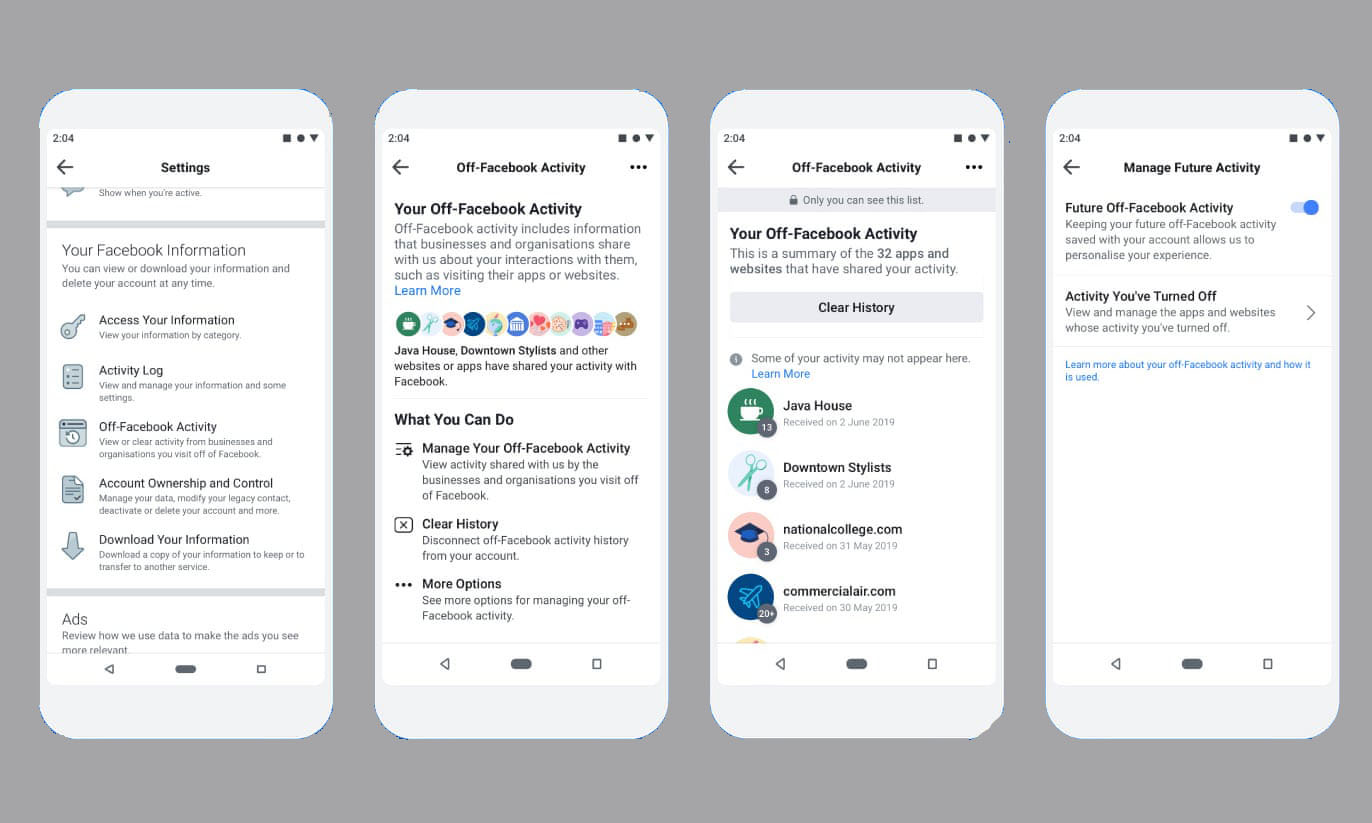 The tool is currently available only in Ireland, Korea and Spain, but it should be rolled out globally some time in 2020.
What's behind Facebook's decision to introduce the Clear History tool?
Facebook places trackers across the web to build profiles of consumer behavior. Currently, these profiles are associated with individual Facebook accounts–so that Facebook can tie a person's browsing history to their likes, shares and other engagement activities on the social network.
By gathering this data both on- and off-Facebook, the company builds extremely detailed profiles of individual users–which brands can then access on the Facebook advertising platform.
Granular targeting is a major reason the company has become a juggernaut in the digital marketing space: taking 22% of overall digital advertising dollars and 83% of all social ad spending. But around the world, consumers and regulators are taking a hard look at digital privacy. Facebook is introducing the Clear History tool to give some control back to users (or at least offer the appearance of doing so).
Will the Clear History tool be adopted widely? What might this mean?
Facebook doesn't plan to promote the tool, so there may not be a large-scale impact. As a user, you'll need to dig around in settings to find it.
 If it is adopted at scale, the tool could make targeting harder for advertisers. A lot of ad dollars are spent on retargeting, which becomes more difficult the less Facebook knows about its users.
In general, users of Facebook properties (primarily Facebook and Instagram) will see less targeted ads in their feeds if they activate the Clear History tool.
How should marketers prepare for the broad rollout of the Clear History tool?
Marketers may have to adjust their tactics and get more creative about reaching audiences on Facebook and Instagram.
Using less granular audiences for retargeting is one option. Getting savvier about identifying properties of your ideal target user is another. Consider taking CRM lists or other first-party data and partnering with data management platforms (DMPs) to bucket consumers by interest or demographic.
Another possibility: reorienting your Facebook strategy around top-of-funnel "prospecting" ads designed for a more general audience.
As a final consideration, think about how you can prepare for the Clear History tool's global rollout. Benchmark your Facebook and Instagram performance today so you have a baseline for comparison once the tool is widely introduced.
The final word
Facebook's Clear History tool gives the company a chance to champion privacy while keeping advertisers reliant on its other native targeting techniques. Since the tool hasn't yet been introduced in the US, it's hard to say what its impact will be–but you can begin to prepare by ideating new targeting strategies for Facebook and Instagram audiences.