For banks aiming to engage millennials and Gen Z, digital media offers unparalleled reach and relevancy. But does digital make sense for financial services marketing to older generations?
The answer is yes – yet for maximum impact, a differentiated approach is necessary. Senior citizens have different digital behaviors and unique financial needs that your marketing strategy must accommodate.
Broadly, we marketers have adopted a mindset that older generations are not using tech. Corporate marketers have often underutilized the potential of digital channels to reach their 'senior' customer base because they feel traditional media (including TV) may be more effective in reaching them.  This may once have been the case – as recently as 2011, less than half of over-65s browsed the internet – but today, two-thirds of seniors are regular internet users.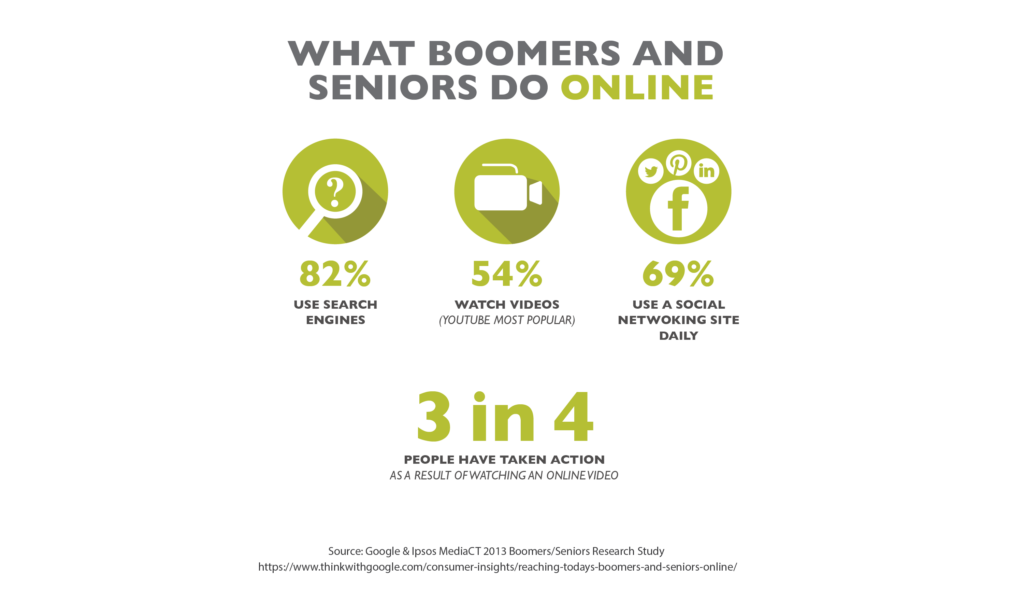 From our practice working with financial institutions at iQuanti, we see these 3 considerations as necessary for successful financial-services marketing to seniors.
1. Recognize unique emotional states of older consumers
No matter which age cohort you're hoping to reach, marketing must drive an emotional response. Think about your favorite books or TV shows: what makes them engaging? Odds are, it's the characters and their stories.
Rarely do financial services marketers have the chance to build a narrative around specific characters – Mayhem from Allstate may be one exception – but you can grow engagement via emotional impact.
If the goal is to reach seniors, seek to create content that evokes emotion. In a financial-services marketing context, you may opt to talk about:
Retirement security
Grandchildren and their financial needs
The community benefits of switching from large bank
Your objective should be to get consumers thinking about the "whys" behind their financial decisions. Video content can be especially useful here – not only because it can produce an emotional response but because it can be leveraged to tell a story.
2. Recognize how seniors' digital media use differs from younger generations'
Where older generations differ from their younger counterparts is in how (and how much) they rely on the web.
It is estimated that on an average, older netizens in the 65+ age category spend anywhere between 2.5 and 3 hours of their day, every day, web browsing.
Much of that time is spent with social media and YouTube. Facebook, in particular, helps older people stay current with far-flung friends and family members. In fact, over-55s are now the second-largest age group on the platform.
According to a survey conducted by AARP, the vast majority of seniors use technology to perform banking or financial transactions online, and it is, in fact, one of the top 10 activities performed on desktop/laptop in the age category 50-70+.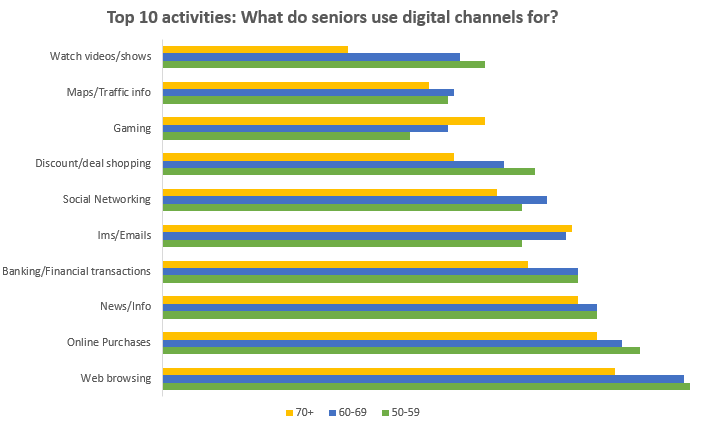 If banks want to focus on attracting older consumers, they need to reach them on a different level – less with SEO and more with video and social media marketing.
Click here to read more about which social metrics to focus on in your marketing outreach.
3. Develop content for the entire product journey
At the same time as it must elicit emotion, your content strategy should also address the journey consumers take through your product suite.
The idea of a "product journey" is highly relevant for older financial consumers. Their needs range from basic financial products like checking and savings accounts to lifecycle-specific products such as reverse mortgages and annuities.
Consider the kinds of marketing content that may help older consumers navigate your products and build this into your broader financial services digital marketing strategy. Some ideas:
An infographic that illustrates strategies for unlocking home equity
A video that explains how annuities work
A chart comparing retirement-plan fees
Ideally, your content will support the process of consumer fact-finding, comparison and price research. Think in terms of the sales funnel: Do you have content for the top of the funnel (e.g., infographics), the middle of the funnel (e.g., datasheets) and the bottom of the funnel (e.g., promotions)?
Use funnel stages as your guide to building content. Each content piece should address a consumer need or address intent – i.e., what drives a person to buy a financial-services product.
The Final Word
Marketing to seniors presents unique challenges. Yet because seniors are a large demographic with very specific physical, emotional and financial needs, financial services marketers should think hard about how they can add value to seniors' financial lives.
Target them digitally on their most-used platforms with engaging content and emotionally resonant stories. It's an approach that can drive both engagement and acquisition.
Have any questions or comments about the article? Tell us here.