iQuantified: An SEO Podcast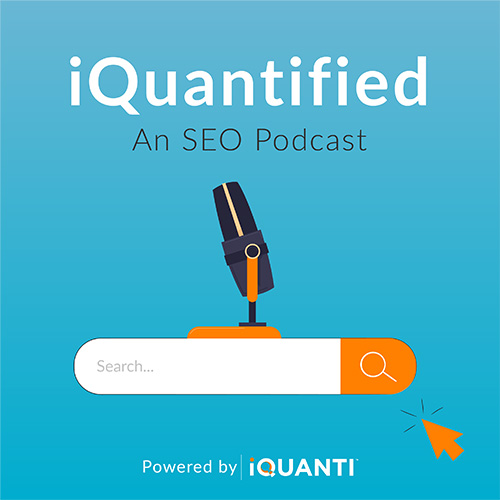 iQuantified is a monthly SEO podcast featuring an array of experts in the field, ranging from those in-house at iQuanti to the larger SEO industry. Our featured experts break down dense topics like how to deal with an organic search decline and the full-funnel connection to search, and make them easily digestible for SEO practitioners of all levels. In the end, you'll be iQuantified.
iQuantified: An SEO Podcast – Episode 1
Dealing with Organic Traffic Declines
12 August 2021
iQuanti Vice President of Search Strategy Wayne Cichanski breaks down the three elements involved in identifying what's causing organic traffic declines and how to combat those issues. Hint: It's usually a combination of all three (rank distribution, search volume and CTR). Later in the show, Cichanski gets into the "wildcard" element of schema and how that can affect traffic and how consumer intents have shifted during the COVID-19 pandemic. Wrapping it all up, Cichanski discusses Google's recent page experience update.
Casey Musarra
Content Writer, iQuanti
Casey Musarra is a content writer and video production manager at iQuanti. Before joining iQuanti in April 2020, she primarily worked in sports journalism with Newsday and Philly.com. Casey is a podcast nerd who first started listening to podcasts in 2011 (before they were cool!) when she religiously tuned into ESPN's Fantasy Focus Football and Fantasy Focus Baseball podcasts. Now, some of her favorites include Armchair Expert, Call Your Girlfriend, Code Switch, Pod Save the People, The Daily, and Up First. She spends an inordinate amount of time trying to figure out how she's going to listen to her backlog of downloaded podcasts with only 24 hours in a day and a need to work/sleep.
Wayne Cichanski
VP, Organic Search Strategy
Wayne is a digital executive & SME with over 27 years experience in the field of digital marketing, web strategy, and search. As Vice President of Search Strategy for iQuanti, Wayne heads the global SEO and search strategy practice. A creative, innovative thinker, Wayne enjoys problem-solving and strategic initiatives. Even before Google's launch, Wayne had been involved in every aspect of algorithms and digital journeys as they evolved over the years.